Employees, patients have access to discounts, benefits




by Mary Helen Yarborough




Public Relations


Filling prescriptions not only is convenient for MUSC employees and patients, buying them just got a lot less expensive for many.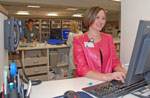 Dr. Heather Kokko checks drug information from a databank that helps alert pharmacists to safety precautions. Meanwhile, pharmacy technician Linda Bredewater prepares prescriptions for refill in back of ART pharmacy.



A generic drug program approved by hospital leadership on July 17 will enable patients and employees to obtain many generic medications at a discount, said Heather Kokko, Pharm.D., Ambulatory Pharmacy Services manager, who developed the program.

"We will begin offering selected generic drugs for $4 for a typical 30-day supply and $10 for a typical 90-day supply beginning Aug. 1," Kokko said.

Kokko said that about 300 drugs currently are included in the program and will be available to MUSC patients, employees and associates. "These drugs will be found on our Web site (http://www.musc.edu/pharmacyservices/) and we will also be creating a link from the MUSC main page," Kokko said. A complete list also can be obtained via e-mail or fax from any of MUSC ambulatory pharmacies.

In addition to the new generic medication pricing program, MUSC pharmacies are able to offer other money-saving programs to its employees, including a number of popular over-the-counter (OTC) medications at reduced prices.

Most of these OTC drugs are available for as little as $2 (baby aspirin, antibiotic ointments, Tylenol, just to name a few). Mucinex is available for $8, and Claritin (generic) can be obtained for $3 for a 30-day supply. (Pharmacies will provide a list of these drugs.)

MUSC pharmacies also are the pharmacy provider of choice for the State Health Plan and MUSC Options, and therefore also offer the following discount to the enrollee's copays:

State Health Plan: copays on 30-day supply prescriptions: $7 for tier 1 medications; $22 for tier 2; $37 for tier 3.
MUSC Options: copays on 30-day supply prescriptions: $7 for tier 1 medications; $27 for tier 2; $47 for tier 3.

"We are able to offer drugs at a discount to employees and patients due to our discounted government pricing," Kokko said. "Because of our special prices, we must meet certain patient criteria. A person can't just walk off the street and get their prescriptions filled here. There must be a direct association with MUSC to enjoy the discounted prices."

It also would be advisable to ask the pharmacist what a drug costs without insurance. "You might find that the price is better without insurance," Kokko said. The four MUSC pharmacies, located in the Ashley River Tower, Hollings Cancer Center, Rutledge Tower and University Hospital, also provide a personal, convenient touch with privacy, security, and expert consultation.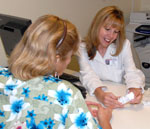 Pharmacist Brenda Fauteux consults with a customer in ART Pharmacy's private consultation room.



For example, the pharmacy in the new Ashley River Tower incorporates the need for patient-pharmacist consultation with maximum privacy. A small room on the left side of the pharmacy enables patients to close a door, blocking access from others, and meet privately with a pharmacist.

Other pharmacies, such as the University Hospital Pharmacy, urge patients to phone the pharmacist for private consultation, if desired. The University Hospital Pharmacy, which recently expanded to make room for prescription storage, offers the center-of-the-campus convenience and access to one of MUSC's most seasoned, and affable pharmacists, Henry Smith.

"Henry runs a tight ship and if you are not nice to his customers, you won't last long," Kokko said.

Among the more challenging issues for patients is the cost of prescription drugs. MUSC staffs five people who are dedicated to providing patient assistance to people with financial constraints. While many of these patients are referred from various social services, "We get to know a lot of these people and can refer them to patient assistance," Kokko said. "Of course, they have to provide all sorts of proof of their financial hardship, but once they get into the system, we are able to offer them help, and in many cases, free drugs, based on the commitment of some of the drug manufacturers."



Family Medicine Pharmacy


At MUSC's Family Medicine Pharmacy, located on Calhoun Street across from Roper Hospital, employees and patients can take advantage of certain discounts, though not as many as the hospital offers. The pharmacy is affiliated with the South Carolina College of Pharmacy (SCCP) and provides Advanced Pharmacy Practice Education for fourth-year SCCP pharmacy students. It is a full-service pharmacy that accepts most insurance plans. The pharmacy offers discounts on some OTC drugs, including pain relievers, cough, cold and allergy medications, and some topical ointments.



Ashley River Tower Pharmacy


1Upper (Mezzanine)
Monday - Friday (8:30 a.m. - 5:30 p.m.)
876-5585

Hollings Cancer Center Pharmacy
2nd floor
Monday - Friday (9 a.m. – 5 p.m.)
792-6440

Rutledge Tower Pharmacy
1st floor
Monday - Friday (8:30 a.m. - 5:30 p.m.)
Saturday (9 a.m. – 1 p.m.)
792-7233

University Hospital Pharmacy (Formerly Ashley Avenue Pharmacy)
1st floor of the University (Main) Hospital
Monday - Friday (8:30 a.m. - 6:30 p.m.)
792-4646



*Family Medicine Pharmacy


295 Calhoun St.
Monday - Friday
9 a.m. – 5 p.m. (Closed 12:30 – 1 p.m.)
Saturday (9 a.m. – noon)
* Discounts and programs differ from those offered by hospital pharmacies.


Friday, July 25, 2008
Catalyst Online is published weekly, updated as needed and improved from time to time by the MUSC Office of Public Relations for the faculty, employees and students of the Medical University of South Carolina. Catalyst Online editor, Kim Draughn, can be reached at 792-4107 or by email, catalyst@musc.edu. Editorial copy can be submitted to Catalyst Online and to The Catalyst in print by fax, 792-6723, or by email to catalyst@musc.edu. To place an ad in The Catalyst hardcopy, call Island Publications at 849-1778, ext. 201.