TAs honored for work, excellent skills




by Mary Helen Yarborough




Public Relations


Therapeutic assistants experience few dull moments on the job. Their work in the Institute of Psychiatry (IOP) is tough and physical, and is always important.

To some, the job may look like a very challenging and sometimes frustrating vocation. But to those who rely upon their skills, therapeutic assistants (TA) are certainly appreciated. On June 12, a select group of them were honored as recipients of the first Therapeutic Assistant of the Year awards.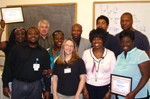 IOP honors its top therapeutic assistants June 12.



All the nurse managers, led by Harriet Cooney, R.N., IOP clinical director, planned this first time event, which included a bake sale to support the rewards and reception, said Karen McHugh, R.N., 2N nurse manager.

"The therapeutic assistant at the IOP is a pivotal person in maintaining a therapeutic milieu," said Tina Hogarth, R.N., IOP education coordinator. "These staff members have bachelor, and sometimes master's degrees in social sciences. They are trained, or have experience in providing individual therapeutic conversation, group activities, keeping the staff and unit safe by monitoring the whereabouts of patients, and carrying out various precautions and procedures."

In general, TAs provide a basic sense of stability and flow in a fragile environment. TAs work closely with nurses while they provide a broad spectrum of service, therapy and support in psychiatric units.

"TAs are always 'on,' being constantly in view of patients and families. This requires a very dedicated person," said Hogarth. "They stay in touch with the RNs to ensure continuity of care during the shift."

TAs are skilled in assessing the clinical environment with a keen sense of whether a patient is safe and comfortable; or whether prompt intervention is required when patients exhibit behavior that could be harmful to themselves or others, Hogarth said. "They are skilled in soothing the upset patient," she added.

They interact with visitors and families and escort patients to activities and meals, keeping them safe and helping them participate in various activities or perform life skills.

TAs also work with community groups and conduct meetings. A lead TA has additional duties, often serving as a preceptor to new staff, providing staff training on new information, conducting program planning on the units, and leading initiatives such as the Engagement Model and AIDET (Acknowledge, Introduce, Duration, Explanation and Thank you), which is an effective communication tool.

Senior TAs have specialized skills. "For instance, our TA of the Year, Sylvia Legare, is tasked with overseeing orientation of new staff on 3N," Hogarth explained. "She serves as a consultant on these issues for the IOP."

Other senior TAs serve as specialists in certain kinds of groups and therapies, and program planning.



An invaluable TA


"Sylvia Legare is the quintessential TA," Hogarth said. "I worked with Sylvia as the nurse manager for four years on the big 3N-general adult psychiatry unit. She has been a TA for about 20 years. She had perfect attendance for 14 years, continuously. She is a formal and informal leader. She takes the initiative on anything that she sees that needs improvement. She develops training packets for all facets of TA activities and provides the training in the beginning and when necessary. She met with the dietitian to choose healthy snacks for our very hungry patients and she arranged with her to provide nutrition teaching every other week. She develops work flow processes that keep her very busy unit organized. She works closely with the charge nurse to keep everything running smoothly. She does not tolerate 'slacking,' and sets the bar for patient care, customer service and efficiency."


Friday, July 25, 2008
Catalyst Online is published weekly, updated as needed and improved from time to time by the MUSC Office of Public Relations for the faculty, employees and students of the Medical University of South Carolina. Catalyst Online editor, Kim Draughn, can be reached at 792-4107 or by email, catalyst@musc.edu. Editorial copy can be submitted to Catalyst Online and to The Catalyst in print by fax, 792-6723, or by email to catalyst@musc.edu. To place an ad in The Catalyst hardcopy, call Island Publications at 849-1778, ext. 201.