Bring a buddy to camp


Each summer in the United States, children have shared in organized camp experience in an effort to build social skills, develop character and promote good citizenship.

From June 16-19, children ages 3-6 participated in the Down Syndrome Association of the Lowcountry's (DSAL) second annual Buddy Camp.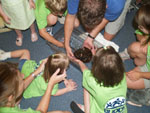 Campers gather to touch a horseshoe crab as part of a June 26 tour of the S.C. Aquarium.



The camp, supported by proceeds from DSAL's annual Buddy Walk, was held at Providence Baptist Church in Daniel Island.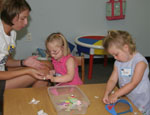 Second-year speech language pathology student Jessica Terry, assists Claire Vail, 4, and buddy, Payton Abbott, 4, as they glue on characters to their sun visors during




craft time.



The three-day event hosted 10 children with Down syndrome and their buddies, and was supported by volunteer counselors including Diane Andrews and Tish McAfee, MUSC Department of Speech Language Pathology; Jamie Snape, MUSC Physical Therapy and other Tri-county health care professionals and students. Children participated in hands-on activities to encourage play and interaction through music, language and gross/fine motor activities.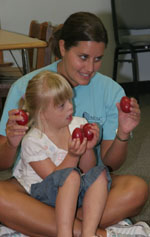 MUSC student Brittni Carnes and camper Cate Oxford sing along with egg shakers during music time.



"Diane, Tish and the other counselors have done a wonderful job organizing this year's camp," said Chad Vail, parent and DSAL past president. "Parents, families and friends are very supportive to the camp, because it teaches inclusion and allows children to freely engage in play and activities together."

The group concluded the camp with a visit to the South Carolina Aquarium.


Friday, July 4, 2008
Catalyst Online is published weekly, updated as needed and improved from time to time by the MUSC Office of Public Relations for the faculty, employees and students of the Medical University of South Carolina. Catalyst Online editor, Kim Draughn, can be reached at 792-4107 or by email, catalyst@musc.edu. Editorial copy can be submitted to Catalyst Online and to The Catalyst in print by fax, 792-6723, or by email to catalyst@musc.edu. To place an ad in The Catalyst hardcopy, call Island Publications at 849-1778, ext. 201.