Flowertown medical practice joins UMA




by Dick Peterson




Special to The Catalyst


Employees and their families living in Summerville no longer have to travel into Charleston to see a University Medical Associates (UMA) family medicine physician or be referred to an MUSC specialist.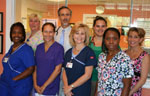 Flowertown University Family Medicine staff include Chinequa Ancrum, front row from left, Shenna Sadler, Kelly Bishop and Tammie Ellis. Back row from left are Joanne Eddins, Dr. Anthony N. Glaser, Amanda McFann, family nurse practitioner, and Kathryn Shaw. Not pictured are Dr. Kim Mallin, Crystal Flores, Tammy Justice-Alberts and Diana Hall.



Flowertown University Family Medicine, an established Summerville practice, recently joined the UMA network expanding employee choices of family physicians throughout the Lowcountry.

Formerly known as Flowertown Family Physicians, the practice is located near the intersection of Main Street and U.S. Highway 78 in Summerville. It is operated by Anthony Glaser, M.D., Kimberly Mallin, M.D., and family nurse practitioner Amanda McFann.

"The big thing about being affiliated with UMA is that MUSC is the largest employer in the area," said outpatient practice manager Diana Hall. "Altogether with the university, UMA and the Medical University Hospital Authority has about 10,000 employees here in the Lowcountry."

When it comes to surviving in the highly-regulated field of private practice, MUSC has the size and clout to negotiate with insurance companies and provide the business management services that independent practices can hardly afford.

"The truth is that independent private practice is very hard to survive. It won't make any money. MUSC gets paid more than private physicians do, because they can negotiate with insurance companies, and the private physician can't," Glaser said. "You can't adjust your prices; you can't see more patients; you cut your overhead to the bone and you still lose money. So you have to find a way out. That's why there aren't many private practices left, at least not in primary care."

And the patient benefits. By having MUSC's electronic medical records system in place, Glaser and Mallin have immediate access to patient charts and test results provided by MUSC physicians and specialists without having to wait for the information to be faxed.

"And we have a lot of patients here in Summerville who value the medical university and value the name of MUSC," Mallin said. "We've had quite a few who have said they want a doctor affiliated with MUSC."

She said that family medicine in particular gives her a sense of satisfaction that few other medical specialties could have provided.

"I've got whole families I take care of; grandparents, moms, dads and children. That's the part that makes it worthwhile. If I were just seeing sore throats and treating chronic illnesses, I'd go nuts, if that were all it was," Mallin said. "But it's not. It's getting to know the patients and the families and taking care of them as the big picture."

Both doctors said they appreciate being able to provide medical care free of having to run a business. By affiliating with UMA, they can concentrate on what they do best, which is caring for their patients. They can leave the business management end of the practice to those who do practice management best.

"None of us went to business school," Glaser said. "We went to medical school. Running this as a business gets more and more onerous all the time with all the bureaucracy and federal and state rules. Since March (when the affiliation went into effect), I've been able to focus more on patient care."

Born in London, Glaser holds bachelor's and doctorate degrees in social psychology from the University of Sussex, England. "And then things got weird," he said, allowing a wry smile to crease his face. "I went to the American University of the Caribbean School of Medicine and was assistant, associate and then full professor of medical psychology and biostatistics."

There, he decided to become a medical student while remaining full time on the school's faculty. He followed his first two years of medical school in the Caribbean with his third and fourth years at a group of affiliated hospitals in Detroit.

"Then I went looking for a residency in family medicine, preferably with a temperature closer to that of the Caribbean than Detroit's." He found Charleston and MUSC. Glaser has been practicing family medicine in Summerville since 1998, having bought the practice from his original partner, Dan Hibner, M.D., about six years ago.

Glaser was joined by Mallin who also spent her family medicine residency with MUSC. A North Carolina native and graduate of East Carolina University's Brody School of Medicine, Mallin spent her surgery residency at the University of North Carolina Wilmington, but took time off from medicine to take stock of her career goals.

"I went to Florida and worked as a librarian," she said. "During that time I learned about how difficult life can be. I decided to put some of that to use. When I came back, I did a family medicine residency at MUSC and here I am."

McFann serves an important role in the office, helping families with the preventative care they need and by treating acute and chronic conditions as directed by the doctors. She is also skilled in performing simple procedures in accordance with her training as a family nurse practitioner.

A native of Charleston, McFann with her husband and 21-month-old daughter, Ruby, makes her home in Summerville. She holds a bachelor's degree in biology from Presbyterian College and bachelor's and master's degrees in nursing from MUSC. She is nationally certified through the American Academy of Nurse Practitioners which qualified her family specialty. She has completed training as a breastfeeding counselor through South Carolina's WIC (Women, Infants and Children) program. She also serves as a clinical preceptor for MUSC's College of Nursing. McFann has been working in the Summerville office since her graduation from MUSC in 2006.


Friday, July 4, 2008
Catalyst Online is published weekly, updated as needed and improved from time to time by the MUSC Office of Public Relations for the faculty, employees and students of the Medical University of South Carolina. Catalyst Online editor, Kim Draughn, can be reached at 792-4107 or by email, catalyst@musc.edu. Editorial copy can be submitted to Catalyst Online and to The Catalyst in print by fax, 792-6723, or by email to catalyst@musc.edu. To place an ad in The Catalyst hardcopy, call Island Publications at 849-1778, ext. 201.