MUSC eyes Kentucky model for spinal cord injury program




by Cindy Abole




Public Relations


Leading spinal cord injury experts seeking greater avenues for funding research at MUSC are considering replicating programs established at the University of Kentucky.

During the second South Carolina Spinal Cord Injury Research Fund (SCIRF) Scientific Conference, more than 60 physicians, researchers and advocates from across South Carolina gathered at the Storm Eye Institute Auditorium May 30 to learn how Kentucky established and maintained its successful spinal and brain injury programs.

Kentucky, which has a similar socio-economic profile as South Carolina, also has the nation's most mature spinal cord injury program dating back to 1997, and is funded in part by speeding tickets and court fees. South Carolina's eight-year-old program is funded through fines collected from drunk driving offenses.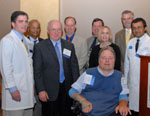 Dr. James Krause, center, gathers with colleagues at the May 30 SCIRF conference.



The meeting was an opportunity for scientific directors to promote research progress and education strategies to understand the cause of paralysis, sensory loss and other effects of spinal cord injury and disease. Established by the South Carolina legislature in 2000, organizers conducted a seventh-round scientific review of SCIRF projects and shared their conclusions.

Participants were welcomed by Brian G. Cuddy, M.D., SCIRF board chairman; James Krause, Ph.D., associate dean for clinical research, College of Health Professions and SCIRF scientific director; and Naren Banik, Ph.D., professor in the Department of Neurosciences and SCIRF associate scientific director.

The featured speaker was Edward Hall, M.D., Ph.D., director of the Spinal Cord and Brain Injury Research Center, University of Kentucky (UK).

Hall discussed his state's progress which included the establishment of Kentucky's Spinal Cord Injury Research Trust in 2002. Collaborations with University of Louisville researcher Christopher Fields, M.D., and Kentucky State Sen. Tim Shaughnessy led to the establishment of the Kentucky Spinal Cord & Injury Research Trust, which funds programs at the University of Louisville and at UK for neurotrauma research.

Findings from a 2007 special rehabilitation study of South Carolina neurotrauma patients showed a lack of access to care and shortages in adequate inpatient rehabilitation services for the state's spinal cord injury patients, according to David Murday, Ph.D., University of South Carolina's Arnold School of Public Health.

The study also found that only 8 percent of spinal-cord injury patients receive adequate specialized care within accredited programs around the state. The group is currently reviewing follow-up recommendations and actions.

Sunil Patel, Ph.D., professor and clinical chair, Department of Neurosciences was named SCIRF's Phanor L. Perot, Jr., Endowed Chair in Spinal Cord Injury Research.

"Our goals are to integrate research and develop satellite sites around the state that can pinpoint dollars to specific areas and mandate collabor-ation so we can work together to support ongoing research," said Krause, who is searching for new ways to maximize funding.

During a panel discussion on SCIRF, researchers discussed the importance of sustaining and expanding research and funding options.

Progress in all efforts could be obtained through collaborative and competitive research and pilot programs, which would be required to obtain support from the National Institutes of Health funding, special initiatives and recruitment. They also reviewed advantages to collaboration and integrating statewide research through the development of satellite sites with institutions and organizations.


Friday, July 4, 2008
Catalyst Online is published weekly, updated as needed and improved from time to time by the MUSC Office of Public Relations for the faculty, employees and students of the Medical University of South Carolina. Catalyst Online editor, Kim Draughn, can be reached at 792-4107 or by email, catalyst@musc.edu. Editorial copy can be submitted to Catalyst Online and to The Catalyst in print by fax, 792-6723, or by email to catalyst@musc.edu. To place an ad in The Catalyst hardcopy, call Island Publications at 849-1778, ext. 201.