Giving blood is right, critical thing to do
by Mary Helen Yarborough




Public Relations


Some broken records are worth hearing, regardless of how familiar the tune. So, when the local American Red Cross (ARC) cries for blood donations, they're serious.

MUSC and its patients depend on blood. Living requires it. We all have it to share, but only a small percentage of suitable donors do. The shortage of donors is particularly evident during summer.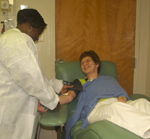 Donna Poyer is working on donating her sixth gallon of blood. The 34-year MUSC employee is a secretary in the pediatric cardiology pathology lab. Assisting her is Leslie Flood, team leader in the American Red Cross donor room. Poyer gives blood every 56 days. The American Red Cross donor room is located in Room 279 of the main hospital and is open weekly from 8 a.m. to 3 p.m. on Tuesdays; 10 a.m. to 5 p.m. on Wednesdays; and 10 a.m. to 3 p.m. on Thursdays.



"The need for blood is year round. But during summer availability of blood always decreases," said Jerry Squires, M.D., medical director of transfusion services, who donates his blood regularly. "This is because schools are out of session and donors are on vacation or traveling. However, the need for blood to support trauma, transplant and cancer patients is constant. It is critical that people continue to donate this lifesaving resource during the summer months, not for the hospital, but for our patients in South Carolina."

One out of every 10 people entering the hospital needs blood. Fortunately, a battalion of MUSC employees donate blood regularly. Still more members of the campus are urged to chip in.

To Stuart Smith, vice president for clinical operations and medical center executive director, giving blood has become a part of his personal and professional duty.
"Giving blood is one way of contributing to the patients we serve," Stuart said. "I've made it a practice to donate ever since I was in the Army."

Despite their dependability, regular donors here cannot make up the supply needs. In fact, only 5 percent of the eligible donor population gives blood. This is a problem, especially for the Charleston region where blood demand traditionally exceed supply.

In 2007, ARC collected 31,286 units of red blood cells (RBCs) in the four-county Charleston region. At MUSC, 1,180 units of blood were collected in 2007, but the institution's patients required 23,671 units from ARC. The total amount distributed to local hospitals was 39,467 units of RBCs. That meant that nearly 8,200 units of blood had to be imported from outside the immediate area to cover the deficit.

Even with its onsite blood donation center (Room 279 in the main hospital) and drives by various colleges, departments and groups on campus, less than 8 pints per drive were collected last year.

"MUSC patients used an average of 63 units of blood and 14 single donor plateletpheresis every day of last year. This includes weekends, holidays and summer vacations," said Nancy Reilly Dixon, manager of transfusion medicine and also a regular donor. "The need for blood is constant."

Every two seconds, someone is in need of blood. Without getting it, they will die. Blood supply needs spike with every disaster, car wreck, transplant, and sick or injured child. The need for blood is constant for people battling cancer or America's enemies; fighting crime or blood disorders, such as sickle cell anemia, and many other life-threatening conditions.

The supply relies on donors who are at least 17 years old, weigh at least 110 pounds, and are in good health. ARC needs 25,000 people nationally to donate blood each day to serve patients and victims who often are close to home.



Help eliminate excuses


It only takes an hour to donate blood. Still, to some prospective donors, fear of rejection may be discouraging. Rejection, or deferral of the prospective donor to come back another day, may result from a low iron reading from the small sample collected during intake. This does not necessarily mean that the potential donor is sick. It just means that the iron level in the blood may not be high enough to make it safe for donation; plus the donated blood needs to be rich in iron.

"A new machine we are now using has increased the accuracy of the iron levels resulting in fewer deferrals," said Delia Hogon, collection specialist. "Also, people are listening when we educate them on how to improve their iron levels."

To assure that your blood is healthy, improve your nutrition, which also will provide a variety of nutrients that help build and repair tissues so your body will function well.

While it is needed in small amounts, iron is one of the body's most important elements. Iron combines with protein to make hemoglobin, the red substance in the blood that carries oxygen from the lungs to body cells and removes carbon dioxide from those cells. Iron also helps the cells obtain energy from food. A deficiency in iron can cause listlessness, fatigue, shortness of breath, rapid heart rate with minimal exertion and depression. Good nutrition is important in everyone's life—especially to a blood donor—and iron is a major ingredient to good nutrition. At the blood collection site, your blood will be checked to determine if your red cells are adequate for donation. Low counts may indicate the need for iron supplementation.

To maintain a healthy level of iron in the blood:

Eat iron-rich foods. Red meat, oysters, clams, soybeans, dried beans, peas and lentils, whole grain cereals and breads, as well as prunes and dried fruits, are excellent sources of iron.
Combine foods rich in vitamin C with foods rich in iron. Vitamin C helps the body absorb iron. It can be found in citrus fruits/juices, kiwi, cantaloupe, strawberries, broccoli, tomatoes, peppers, potatoes, cabbage, spinach and leafy greens such as turnip, beet and collard greens.
Cook in cast iron. As your food cooks, it will pick up iron from the cookware.
Drink water and avoid coffee and tea. Tannins in coffee and tea can block the absorption of iron. Drinking lots of water has countless benefits.
The Food and Nutrition Board recommends a daily intake of 8 mg of iron for men and women. An intake of 18 mg per day is recommended for women during child-bearing years. Bleeding is the number one reason for low iron or anemia in adults. Iron loss may result from peptic ulcer, hiatal hernia, diverticulosis, cancer, menstrual period, etc. Also, running, walking and excessive sweating cause iron loss.

ARC iron level requirements make sure you can spare a pint of blood. The requirements also mean that each patient receives an iron-rich transfusion. An individual's iron level changes constantly depending on food intake and physical activity level.

Not passing this test does not mean you are unhealthy. Modifying your eating habits to include iron-rich foods should enable you to donate in a few weeks.

ARC also has a list of issues that would exclude a person from donating blood, which include having visited or who were born in certain countries, most of which are in Africa; if you have certain blood disorders; or take certain medications.

Many conditions, however, do not exclude a person from donating. Some cancer survivors, persons treated for anemia, diabetes, and heart conditions may donate blood.

To boost participation from young people, ARC has launched Bloodstock 2008, a program dedicated to high school and college students.

Bloodstock 2008 drives will be held through Aug. 31, and from Dec. 15 through Jan. 15, 2009. As an incentive for participation, ARC will have a drawing for scholarships for any student that plans and organizes a successful Bloodstock 2008 blood drive.

To qualify for the scholarship drawings, a student must plan and organize a blood drive that collects a minimum of 50 units of blood ($2,000 scholarship) or a drive that collects a minimum of 35 units of blood ($1,000 scholarship) from volunteer donors.

For information, go to http://www.redcrossblood.org/Portal/Bloodstock/BloodStock_Info.html.

The American Red Cross Donor Room is located in Room 279 of the Main Hospital and is open weekly from 8 a.m. to 3 p.m. on Tuesdays; 10 a.m. to 5 p.m. on Wednesdays; and 10 a.m. to 3 p.m. on Thursdays. For information, call the donor room at 792-0219.

For more information about donation concerns and opportunities visit http://www.redcrossblood.org or call 800 GIVE LIFE (448-3543).

Friday, Aug. 15, 2008
Catalyst Online is published weekly, updated as needed and improved from time to time by the MUSC Office of Public Relations for the faculty, employees and students of the Medical University of South Carolina. Catalyst Online editor, Kim Draughn, can be reached at 792-4107 or by email, catalyst@musc.edu. Editorial copy can be submitted to Catalyst Online and to The Catalyst in print by fax, 792-6723, or by email to catalyst@musc.edu. To place an ad in The Catalyst hardcopy, call Island Publications at 849-1778, ext. 201.