MUSC Excellence at the College of Medicine/UMA
Employees of the Quarter recognized

On July 25, Cathy Wood, vice chair for finance and administration, MUSC Department of Medicine, announced the MUSC Department of Medicine's fiscal year 2008 fourth quarter Employees of the Quarter.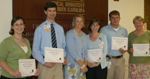 Cathy Wood, center, congratulates Employees of the Quarter Rebecca Strickland, from left, Brian Collins, Suzanne Davis, Matt McCoy and Linda Paddock.



In the spirit of MUSC Excellence, the department selects up to five outstanding non-faculty employees each quarter and an Employee of the Year to be recognized for their contributions to the department and to MUSC.



Employees of the Quarter




Brian Collins, administrative manager, General Internal Medicine and Geriatrics


The nomination reads in part: "Brian Collins is the epitome of MUSC Excellence. Managing one of the largest divisions in the Department of Medicine, Brian juggles the myriad of management tasks that have made General Internal Medicine and Geriatrics (GIMG) such a high-performing division. With a division as large as GIMG, we are constantly recruiting physicians and staff as we expand existing services and recruit new fellows and staff. Brian handles the salary estimates and offer letters (as many as eight at a time), manages the contracts for almost 50 faculty, and directs the activities of a smoothly functioning GIMG support staff. The GIMG division has achieved outstanding financial performance since Brian became business manager. The division in the last three years has accomplished an exceptional amount, and Brian has been a huge reason for our success of this expansion.


Submitted by William P. Moran, M.D.





Suzanne Davis, office coordinator, East Cooper Medical Arts Building


The nomination reads in part: I put "I don't know" for Suzanne Davis' job title because it seems that she does everything for our practice—and does it extremely well and with a smile. She works at the receptionist/check in/check out/telephone answering/medical record monitoring/fixing patient problems area and as my description above suggests, her job tasks are multiple. Personally for me, as a "part-time" practitioner, she (along with Lisa Saunders, R.N.) keep my practice running. Suzanne epitomizes the MUSC Excellence initiative in that she is unfailingly polite and kind to even the most difficult of patients. I know that I personally would not be as effective in caring for my patients if it were not for Suzanne's skill and dedication.


Submitted by Jeffrey G. Wong, M.D

.



Matt McCoy, information resource consultant I, Department of Medicine


The nomination reads in part: "Matt really increased his volume of work this quarter as the IT staff have been functioning shorthanded for much of this quarter. In addition, Matt took the time to lead the College of Medicine/UMA's effort to establish an MUSC Excellence Web site for the dean's office. Although Matt worked extra hours this quarter; he never wavered in his work performance, effort and positive attitude. The call volume on certain days was so high it required the help of the OCIO. During this period of intense workload, Matt was a diligent worker, doing more than required or should be expected.


Submitted by Joe Gough





Linda Paddock, administrative assistant, Cardiology


The nomination reads in part: "Linda Paddock is a person who takes pride and ownership of her job. She does it with extraordinary dedication and skill. She is clearly the "go to" person in cardiology. She is willing to help with any problem, whether it is within her job description or not. She is in large part why I as an individual and we as a Cardiology community succeed. I have not encountered anyone with more dedication to their work and or anyone who is more caring for all of those they encounter. We are privileged to have Mrs. Paddock as a part of our team


Submitted by Dr. Michael Zile, Dr. Donald Menick, Dr. Michael Gold, Steve Vinciguerra and Tommy Gallien





Rebecca Strickland, administrative assistant, Pulmonary


The nomination reads in part: "Rebecca is a huge asset to the Pulmonary Division. She is always finds ways to help patients and the other administrative assistants around her. One example, she made a map to show patients how to navigate through the hospital from the Ashley-Rutledge Garage to Rutledge Tower/Hollings where pulmonary's patients are seen. Her work ethic and performance has resulted in a high level of confidence and dependability. She is one of the elements that helps fine tune our mission to take care of patients, physicians, and surrounding staff. She's been flying under the radar here for some time now and it's time to show her how much we appreciate her. Rebecca's kind, patient, and has the best attitude. This young lady is the exact example of MUSC Excellence at its best. She is constantly accommodating patients to make sure they obtain appointments that will suit their needs, helping decrease the no show rate in clinics and increase revenue. Rebecca is very thoughtful and skillful in every challenge she encounters. She is a go-getter and a most excellent employee and co-worker.


Submitted by Shaneka Douglass and Lora Sedgwick





Nomination criteria


The department encourages nominations based on a thorough description of an employee's outstanding work-related behavior or activities. Examples include exceptional effort on a project or activity (hours involved/tasks completed), accomplishments that reduced workload or provided cost-savings to a Division/unit; receipt of a work-related honor; recognition by a patient, colleague or customer; or overall consistent, outstanding customer service/job performance in any mission area (research, education, clinical, administration).

Friday, Aug. 1, 2008
Catalyst Online is published weekly, updated as needed and improved from time to time by the MUSC Office of Public Relations for the faculty, employees and students of the Medical University of South Carolina. Catalyst Online editor, Kim Draughn, can be reached at 792-4107 or by email, catalyst@musc.edu. Editorial copy can be submitted to Catalyst Online and to The Catalyst in print by fax, 792-6723, or by email to catalyst@musc.edu. To place an ad in The Catalyst hardcopy, call Island Publications at 849-1778, ext. 201.