Doctor's commitment earns national honor




by Alex Jackson




Public Relations


Recognized by the Nabisco 100 Calorie Packs "Celebrating 100 Extraordinary Women" contest, Sherron M. Jackson, M.D., was recently honored for an exemplary commitment to her career, community and family.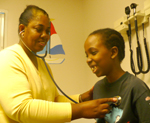 Dr. Sherron Jackson with patient Rhakeem Speights.



A pediatrician with MUSC's Children's Hospital, Jackson's qualities were reflected in a nomination by her younger sister, Katrinda McQueen, who submitted an essay to the national search committee describing Jackson's passion as a physician and a mother.

"When I heard about this contest, I immediately thought of my sister, Sherron," McQueen said. "She has always been a hero and a role model for me, and for many others."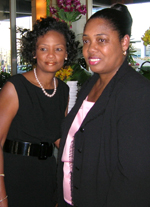 Dr. Sherron M. Jackson, M.D., right, with her younger sister, Katrinda McQueen.



Jackson's heroics are also demonstrated through her profession as a doctor, a profession she had chosen as a child. When she was 10 years old, she knew she wanted to be a doctor. She was fascinated with the human body, and she later turned that fascination into a dream-come-true.

Her personal accomplishments and insights would prove critical to a previously underserved patient group.

Early in her career, Jackson realized that South Carolina was not testing newborns for sickle cell anemia, so she established a statewide screening program to test babies for this condition at birth. These days, she sees about 500 patients from across the Lowcountry in her Pediatric Sickle Cell Clinic, and treats all of them as if they were her own children, according to colleagues and patients.

"Her loyalty is driven by the love for her patients, parents, and friends," said Lyndon Key, M.D., chairman of Pediatrics.

In addition to practicing medicine, Jackson also shares her knowledge and experience teaching medical students and residents. Her empathetic approach as an associate professor results from her own experiences as a student. "I had excellent teachers during my training," she said, "and I want to provide the best education for my students."

"Dr. Jackson has been an excellent teacher of facts, but, even more, she has demonstrated how to make patients feel better simply by her presence," Key said.

Jackson also is devoted to her family, which includes her sisters, parents and a son, who happens to be the author of this article.



A son's perspective


Though my grandparents and aunts live in far-reaching areas of the Southeast, my mom and her sisters work hard to stay in touch and visit with each other often. Both women are aware of the importance of the love and support by their family and friends.

While she is most proud of starting the newborn screening clinic for sickle cell anemia and making health care accessible to all children, she also is proud of what I've been able to accomplish. I am proud of my mom, and I am eternally grateful for the woman who, despite the demands of medicine, found time to raise me, which was extraordinary in itself.

You see, my mom was driving the car in which I was a passenger 20 years ago. I wasn't even a year old then when a drunken driver slammed into us. That injury left me paralyzed. I have never known what it is like to walk.

My mom, a young doctor at the time, also was seriously injured and still suffers from the affects of that wreck, sometimes having to use a cane to make her rounds in the hospital. But she always is pleasant and supportive, always smiling. She has never let me down, and she also has supported many others. She has always found a way to boost my spirits, and she has worked with me all of my life so that I have been able to achieve more than many people my age. I know thousands of people have experienced some part of my mother's power, her incredible healing. I feel strong because of my mother's support and devotion. She has given me confidence and inspired hope. I think many people feel this way about her. My aunt just took the time to record it, which earned the attention of a panel from Nabisco searching the nation for an incredible woman.

So while I am a quadriplegic, I am active and ambitious. I will be graduating from the College of Charleston next year, and this summer, I have interned for MUSC's Office of Public Relations. And with a little indulgence, I was able to report on my mother whose extraordinary accomplishments include her success as a mother, a clinician and an educator.

"She is the complete package," Key said. "She is the physician that makes patients feel better and she is the educator that trains the next generation of doctors."

"Her strength, courage, attitude, and endurance are truly extraordinary. She is an amazing person and has touched the lives of so many people," McQueen said.



Nabisco treat


As a reward from Nabisco, Jackson and her sister traveled to Los Angeles, Calif., on June 27 where they met other contest award recipients. They attended a premiere showing of "Phoebe in Wonderland" at the Los Angeles Film Festival, a movie scheduled to be released this fall. Nabisco's extraordinary women will be featured in national magazines including "People," "Entertainment Weekly," and "Real Simple" in October.

"I was honored to be among a group of such outstanding women," Jackson said. "I was amazed at their accomplishments, many of whom led volunteer efforts in their communities. The trip was a wonderful experience and I appreciate my sister for nominating me," Jackson said.


Friday, Aug. 1, 2008
Catalyst Online is published weekly, updated as needed and improved from time to time by the MUSC Office of Public Relations for the faculty, employees and students of the Medical University of South Carolina. Catalyst Online editor, Kim Draughn, can be reached at 792-4107 or by email, catalyst@musc.edu. Editorial copy can be submitted to Catalyst Online and to The Catalyst in print by fax, 792-6723, or by email to catalyst@musc.edu. To place an ad in The Catalyst hardcopy, call Island Publications at 849-1778, ext. 201.