State youth mental health providers pack IOP conference

by Mary Helen Yarborough




Public Relations


More than 120 mental health professionals spent the day learning how to enhance the safety and well-being of South Carolina's youth by attending the Institute of Psychiatry's (IOP) second annual Summer Seminar Day on July 25.

Presentations provided clinicians with information on teens' use of Internet social networking sites, Asperger's Disorder identification and interventions, understanding of psychiatric medications prescribed for youth, and harm prevention strategies for high at-risk youth. The conference was sponsored jointly by the Youth Division at the IOP, the IOP Office of Community and Professional Education and the MUSC Center for Professional Development.

All of the speakers are experts in their fields. They provided the audience information that is useful, valuable and easily understood about complex behavioral issues to help guide parents, youth and health care providers.



Living in my space


Andrew Clark, M.D., a child psychiatry fellow in a specialized adult/youth/research fellowship track, spoke on clinical concerns for the social Internet with a focus on cyber-bullying, stranger contact via the internet, and overuse of the internet by teens.

A member of the media committee of the American Academy of Child & Adolescent Psychiatry, Clark emphasized that while most teens do not experience problems with social Internet use, he advised that adults provide guidelines for their children to include not posting personal information, not flirting online, using caution and wisdom in posting any photos and especially photos with identifying elements, and never agreeing to meet anyone in person who was met online.

Clark cited various studies that have surveyed youth Internet use and safety; one study of which suggested that 94 percent of American teens ages 12-17 use the Internet, and 58 percent of online teens have a social network profile online with 22 percent of teens visiting their profile several times a day, according to research by Pew Internet and American Life Project.



Asperger's Disorder


Laura A. Carpenter, Ph.D., an assistant professor of pediatrics specializing in developmental pediatrics, addressed Asperger's Disorder with attention to identifying the disorder and differentiating it from high functioning autism.

She recommended interventions to help maximize the potential of someone with such a diagnosis. Individuals with Asperger's, one of the group of Autism spectrum disorders, show difficulty in the area of social skills (poor eye contact, problems using gestures, difficulty understanding other's social cues), having a narrow but deep collection of interests, and having poor motor coordination, she explained.

In order to correctly diagnose an individual with Asperger's, she advocated comprehensive and thorough evaluation and shared copies of some of the standardized questionnaires that are part of a good evaluation.

Carpenter's discussion on intervention covered areas of social skills training, ideas for using concrete visual guides, and sometimes the addition of medications. She also shared statistics and epidemiological data that suggest the incidence of all autism spectrum disorders is 6.5 per 1,000, and breaks down to autism at a ratio of 2.2 per 1,000, Asperger's 1 in 1,000, and other pervasive developmental disorders 3.3 per 1,000.



Medication update


Matthew S. Koval, M.D., an associate professor of psychiatry and attending psychiatrist on the Child and Adolescent Inpatient Unit, discussed the controversies, history and latest information on neural stimulant and other treatments for children with attention deficit/hyperactive disorder (ADHD).

While the Food and Drug Administration has directed drug makers to change antidepressant labeling to include strong warnings about the potential for suicidal thinking or behavior to develop when young people are on these medications, no clear causal relationship has been established, Koval explained. Koval also said that it is rare for children who take these drugs to suffer from suicidal thoughts, or more organized suicidal thoughts, initially with treatment. The risk is very small and generally only associated with first starting the medication or when doses are changed, Koval said.

Koval provided details about available therapies for ADHD, and described how drugs vary in type, as well as effectiveness depending on the child's response to the medication.

Countering another concern, Koval said children who take ADHD drugs, some of which rely upon amphetamines to increase focus and attention in children, do not appear to suffer any greater risk of sudden cardiac death than the general population, as some have suggested. Koval added that the American Heart Association issued recommendations asking prescribers of stimulant medications to run routine electrocardiograms on patients, but the American Academy of Pediatrics has deemed these tests usually unnecessary, but are indicated only when medical history or physical exam points to the possibility of an underlying cardiac defect.



Injury, suicide prevention


Markus Kruesi, M.D., a professor of psychiatry and chief of the youth division in the Department of Psychiatry and Behavioral Sciences, discussed how parents, medical and mental health providers can help prevent a child from self-inflicted injury.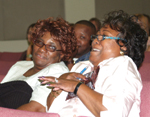 Participants who answered questions correctly received goodies, such as M&Ms, from guest speaker Dr. Markus Kruesi.



In his presentation on suicide and injury prevention for at-risk children and teens, Kruesi said that if they talk about suicide, young black men are the most likely to carry out their wishes; young Latin or Hispanic women are most likely to repeat a suicide attempt; and nearly twice the number of suicide attempts were by females.

Obviously, the presence of a gun in the home increased dramatically the risk of suicide by young people, but over-the-counter (OTC) drugs are the most common weapon of choice. Acetaminophen, or Tylenol, poisoning is a leading cause among youth attempting suicide by overdosing. Kruesi said that the prevalence of large quantity medications make overdosing more readily accessible.

"Can you imagine a kid trying to overdose if these drugs only came in blister packages," Kruesi asked. "That's why a large quantity of loose OTC painkillers has been banned in the United Kingdom. In fact, the U.K. has a regulation requiring paracetamol to be sold in blister packaging."

Overall, of all premature fatalities among young people (between the ages of 10 and 24), suicide ranks fifth. Roughly 10 percent of deaths among youth is by suicide, but that number is down from several years ago.

Kruesi explained how to spot behavior in children that may indicate a propensity for suicide or self-harm.

Strong evidence pointing to individual risk factors include depression, alcohol or drug abuse, antisocial behavior, poor peer relationships, and expressed suicidal behavior by friends.

Evidence that may suggest a risk for self-harm include a child's feeling of hopelessness, media exposure to suicide, low self esteem, smoking, eating disorders, poor physical health, a physical disability, poor communi-cation in the family, homosexuality or bisexuality (particular so for females, Kruesi said); and drug use.

Surprisingly, Kruesi said that a 1999 study he conducted in Chicago determined that in more than half of emergency room visits for overdose attempts by an adolescent, the parent had not been briefed on the subject of suicide, and less than 30 percent of ER staff had warned parents about limiting access to lethal means by their at-risk children.

"Parents who were taught about the risk of suicide in their kids were nearly four times more likely to take new action to prevent it," Kruesi said. New action recommended includes removing all firearms, drugs, car keys, and alcohol.

For information on IOP conferences, contact Heather Tyson at 792-7340 or tysonh@musc.edu.

Friday, Aug. 1, 2008
Catalyst Online is published weekly, updated as needed and improved from time to time by the MUSC Office of Public Relations for the faculty, employees and students of the Medical University of South Carolina. Catalyst Online editor, Kim Draughn, can be reached at 792-4107 or by email, catalyst@musc.edu. Editorial copy can be submitted to Catalyst Online and to The Catalyst in print by fax, 792-6723, or by email to catalyst@musc.edu. To place an ad in The Catalyst hardcopy, call Island Publications at 849-1778, ext. 201.