Employee of the Year is a star
Institute of Psychiatry's Donna Jenkins of the STAR Ladson program was recognized as the medical center's 2008 Employee of the Year.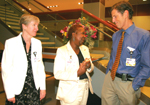 Institute of Psychiatry's Donna Jenkins, of the STAR Ladson program, is congratulated by colleagues Dr. Mark Wagner and Meredith Lyons-Crews during the Aug. 13 ceremony honoring the medical center's 2008 Employee of the Year.



Jenkins, who has worked for 15-plus years at MUSC, is the second employee from her office to receive this award. She is a clinical counselor working with at-risk children who are diagnosed with severe psychiatric and developmental disorders. Jenkins was nominated by her supervisor Meredith Lyons-Crews, who is manager of all day treatment programs, for her extraordinary work and overall excellence.

In her nomination, she wrote that Jenkins is a role model to her staff and other colleagues for her positive attitude and commitment for providing genuine care and compassion to all children.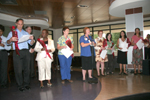 As this year's winner, Jenkins received $500 from MUHA, a flower bouquet from Creech's Florist, an Above and Beyond Lapel Pin, a MUSC Excellence watch and a Rising Star Crystal Award.

Hospital employees cast more than 600 votes during the nomination process. Ten finalists also were recognized at the ceremony: Richard Hoyland, medical director's office; Chloe Singleton and Kathleen Ellis, Business Development & Marketing Services; April Daly, Support Services; Melinda Biller, PICU; Jessica Hackathorne, Therapeutic Services-Occupational Therapy; Stacey Williams, Department of Surgery/ART-PACU; Tressa Heinen, Pediatric ED; and Patricia Dobson, Children's Services Labor & Delivery.

Friday, Aug. 22, 2008
Catalyst Online is published weekly, updated as needed and improved from time to time by the MUSC Office of Public Relations for the faculty, employees and students of the Medical University of South Carolina. Catalyst Online editor, Kim Draughn, can be reached at 792-4107 or by email, catalyst@musc.edu. Editorial copy can be submitted to Catalyst Online and to The Catalyst in print by fax, 792-6723, or by email to catalyst@musc.edu. To place an ad in The Catalyst hardcopy, call Island Publications at 849-1778, ext. 201.