9 faculty members honored at convocation
Editor's note: summaries of the Teaching Excellence honorees were published in the May 16 issue of The Catalyst



Nine MUSC faculty members and administrators were honored Tuesday, Aug. 19 at the annual Faculty Convocation for outstanding contributions in several areas.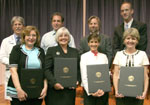 Nine MUSC faculty members and administrators were honored Aug. 19 at the annual Faculty Convocation for outstanding contributions in several areas. Front row from left are Drs. Samar Hammad, Valerie West, Mary Mauldin and Karen Wager. Back row from left are Drs. Robert Stuart, Marc Judson, Adrian Van Bakel and Mark Eckert. Not pictured is Dr. Anouk Grubaugh.



Faculty members attending the event also heard from Jay Moskowitz, Ph.D., president of Health Sciences South Carolina (HSSC), the collaborative involving the state's research universities and major hospital systems.

Moskowitz told the audience the collaboration between the state's research universities and major health care systems was dramatically unique.

"The large scale, statewide university and hospital collaborative we now have is unprecedented," he said. "From my past position at the NIH, I can attest that this level of cooperation between research-intensive universities and hospitals has not been the case in any state.

"Together, we are addressing the state's most serious health threats: stroke, cancer and cardiovascular disease, threats that diminish the quality of life and the economic potential of our people and our state," he added.

"We are accelerating the pace of translational research, particularly at MUSC," he said. "Since April 2004, Health Sciences South Carolina has succeeded in sponsoring 10 centers of economic excellence. Of these 10, MUSC is intimately involved in nine of them."

Moskowitz also briefly described additional plans for HSSC, involving improved collaboration and communication between member institutions, developing new models of health care delivery systems and creating a statewide information technology infrastructure for improved data transmission and analysis.

"This is only the beginning," Moskowitz said. "As a statewide collaborative, we are far more attractive to the NIH and other public funders as well as to pharmaceutical and medical device companies seeking the best possible scenarios for clinical trials and epidemiological studies."

Awards were presented in the following categories: Teaching Excellence, Developing Scholar, Outstanding Clinician and Distinguished Faculty Service.



Developing Scholars




Mark A. Eckert, Ph.D.


Eckert is an assistant professor in the Department of Otolaryngology, Head and Neck Surgery. He earned his undergraduate degree from Villanova University and his master's from George Mason University.

He then trained as a neuroscientist at the University of Florida where he earned his doctorate.

Eckert's research involves anatomical differences in the brain as they relate to cognition and related disorders. His dissertation, Neuroanatomical and environmental factors affecting reading skill development, received widespread praise and was published in the journal Child Development. He already has made a number of significant contributions to various fields of study, including developmental dyslexia and related oral language problems.



Anouk L. Grubaugh, Ph.D.


Grubaugh is an assistant professor in the Department of Psychiatry and Behavioral Sciences. She earned her doctorate from the University of Missouri - St. Louis, receiving extensive training at the Center for Trauma Recovery, then came to Charleston to continue her training with the MUSC and the Ralph H. Johnson VA Medical Center.

She has devoted her career to treatment outcome research related to trauma and other disorders. She has conducted extensive research relating to Posttraumatic Stress Syndrome in veterans, but she also has done much work in the public sector, as well.

To date, Grubaugh has been actively involved in seven national research grants with her mentors and two grants in which she is the principal investigator, and has 40 articles in peer-reviewed publications.



Samar M. Hammad, Ph.D.


Hammad is an assistant professor in the Department of Cell Biology and Anatomy. She earned her doctorate from Pennsylvania State University in 1995 and began training at MUSC as a postdoctoral fellow in 1996, with special interests in lipoprotein metabolism, atherosclerosis, inflammation and sphingolipids.

She has been making major discoveries in the field of blood lipid research for the past 15 years. Her work is designed to improve diagnostic testing and therapy for major human illnesses, especially atherosclerosis and cardiovascular disease.

Beyond the laboratory, she has been actively involved in several facets of the university and graduate education. She has played a prominent role on university committees, including the Women's Scholars Initiative, International Affairs and curriculum programs.



Outstanding Clinicians




Robert K. Stuart, M.D.


Stuart is professor of medicine and is medical director of the Clinical Trials Office of the Hollings Cancer Center. He is the founding director of the Hematology-Oncology Division and established an accredited fellowship training program in that field. He joined the faculty in 1986.

Stuart started up the bone marrow transplant program in 1997, and he played a major part in the founding of the Hollings Cancer Center in 1993.

He has an international reputation in the field of Hematology-Oncology, and between 1997 and 2001, served as Chair of the Department of Oncology at the King Faisal Specialist Hospital and Research Centre in Saudi Arabia.

Stuart is held in the highest regard by everyone who knows him—patients and their families, colleagues, students and residents.



Adrian B. Van Bakel, M.D., Ph.D.


Van Bakel, M.D., Ph.D., is an associate professor in the Division of Cardiology and medical director of the Cardiac Transplant Program. He also served for several years as Medical Director of the Congestive Heart Failure Clinic.

His colleagues marvel at his ability to handle the majority of the administrative work of the transplant program, plus the full clinical load of the heart failure clinic, as well as half the clinical load of the transplant program.

He is known for the "small town" approach he gives to his patients—not only knowing their clinical details but their family situations as well.

Van Bakel also sees patients at outreach clinics across South Carolina, and they all view him as their primary doctor.



Distinguished Faculty Service




Mary P. Mauldin, Ed.D.


Mauldin is director of the Center for Academic and Research Computing, which puts her in a position to help untold thousands of students, staff and faculty on this campus, and she does so with dedication, enthusiasm and innovation.

Her knowledge of the Internet and computing has enabled her to develop state-of-the-art Web-based tools and courses to advance MUSC's threefold mission of education, research and patient care.

Currently, she and her staff have developed more than 80 online courses in use by students.

Not only does she enhance the learning environment on campus, she plays key roles in MUSC's relationships with other institutions, including the South Carolina AHEC, the University of South Carolina— through the merger of the two pharmacy schools—and the South-eastern Clinical and Translational Research Institute.

Mauldin's generosity, like her experience, also extends beyond MUSC, to organizations such as the Trident United Way and the Charleston Crisis Center.



Valerie T. West, Ed.D.


West is currently associate provost for educational programs, but during her career she has served in numerous leadership roles.

She joined MUSC back in 1969—in that year Richard Nixon became the nation's 37th president, man first walked on the moon, the United States was engaged in an unpopular war, and gas was about 35 cents a gallon.

MUSC also gained university status that year.

West has served in numerous administrative and leadership capacities, including twice as interim Dean of the College of Health Professions, the Presidential Scholars program, the renovations of Colcock Hall and the Education Center/Library Building, and she played a major role in starting the "Creating Collaborative Care" program. She also has been involved in the South Carolina Recruitment and Retention Center, the Rural Physician Board and the Trident United Way.

West announced her retirement earlier this year but planned to remain in office until a replacement was selected.



Friday, Aug. 22, 2008
Catalyst Online is published weekly, updated as needed and improved from time to time by the MUSC Office of Public Relations for the faculty, employees and students of the Medical University of South Carolina. Catalyst Online editor, Kim Draughn, can be reached at 792-4107 or by email, catalyst@musc.edu. Editorial copy can be submitted to Catalyst Online and to The Catalyst in print by fax, 792-6723, or by email to catalyst@musc.edu. To place an ad in The Catalyst hardcopy, call Island Publications at 849-1778, ext. 201.