Summer institute prepares future physicians
by Cindy Abole




Public Relations


Prospective medical school students who aspire to become doctors spent part of their summer at MUSC's campus to hone key skills and gain valuable experiences. The program was a part of a six-week, academic program that can help them meet their goals and possible future in medicine.

On Aug. 8, the 2008 version of the summer institute came to a conclusion. Historically, the program was established in 1997 as an eight-week summer program for aspiring students in all health science disciplines under the direction of Thaddeus J. Bell, M.D., associate dean for minority affairs and former Office of Diversity director.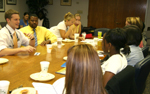 Third-year medical students Derrick Huey, far left, and Vandy Gaffney share their insight about medical school. Huey also is a Summer Institue graduate.



For the past three years, the Summer Institute has been focused on helping potential medical students and the College of Medicine has played a greater role. However, throughout the history of this program, MUSC's Center for Academic Excellence (CAE) has been the central guiding force and mainstay of the program's success, providing academic support and structure for those students from throughout South Carolina who devote their summers to rigorous study and professional school preparation. Presently, eligible men and women are invited to participate in this all-inclusive, resident program that prepares medical school-bound candidates who are seeking to achieve success through focused test preparation, learning study skills strategies, interview preparation and career counseling.



A new beginning


The program has evolved to be the only one of its kind in the state that provides academic support, career counseling and planning to graduate-level students interested in medicine. Summer Institute participants are chosen from a strict selection process led by Wanda L. Taylor, director of admissions. Participants come from the previous year's College of Medicine (COM) admissions process that are just shy of meeting the school's admissions criteria but show potential through additional prep work and instruction.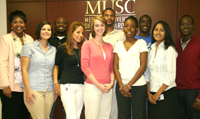 COM's Myra Haney Singleton, far left, joins the 2008 MUSC Summer Institute students.



"This year's Summer Institute participants are a dynamic group," said Myra Haney Singleton, director of academics and student support in the college and who has served as a COM liaison to the institute for the past three years. "Participants share a special insight with experiences and knowledge that inspire confidence that will hopefully translate to helping each individual find success and reaching their aspired goals. It also allows our college staff to develop a relationship with them so that they can experience the support that's available to our students throughout their entire medical school experience. We want them to feel a part of MUSC's team."

College of Medicine Dean Jerry Reves, M.D., and Deborah Deas, M.D., co-associate dean for admissions and director of COM's diversity committee, have helped sponsor the program in the college since 2005. They consider it among one of the successful strategies for promoting student recruitment while meeting the college's goal for diversity in health care education.

This year's 2008 MUSC Summer Institute students are: James Hannah, Clemson; Dorothy Shuttleworth, Wofford; Stacy Weeks, USC; Shenikqua Bouges, Winthrop; Katalina Romero, College of Charleston; Simon Brown, Brown University; Suma Matthew, Columbia College and Craig Thomas, Southeastern Louisiana University.



Curriculum


Each day, students attended scheduled sessions that focused on verbal reasoning, biology, physics, general and organic chemistry—topics that are part of the Medical College Admissions Test (MCAT). The program's curriculum was developed by Medical Scientist Training Program (MSTP) student Andre Eaddy and led the MCAT study review and conducts other supplemental instruction through guidance from CAE director Tom Waldrep, and CAE faculty.

"The program has changed a lot within the last few years," said Eaddy, a fifth-year MD/Ph.D. student, who was selected to head the program in 2006 after working as a CAE student instructor. This year, he and 15 fellow graduate-level, medical and MSTP students, worked as the program's instructors. "Instructors drive the program. These students have a genuine love for teaching, working with students and just giving back. They helped lay the groundwork for the classes— organized the presentations, learned how to approach and relate to students regarding tasks and assignments, etc. It was a total team effort."

Each week, students participated in a lunch-and-learn seminar featuring medical faculty and campus representatives who discussed and presented issues regarding medical school admissions, student diversity, financial aid, academic success strategies and networking.



Sharing advice, experiences


On Aug. 1, the weekly lunch session featured a gathered panel of current MUSC medical students including Cristina Budde, third year; Sydney Cummings, third year; Lauren Yarrow, fourth year; Vandy Gaffney, third year; Derrick Huey, third year; Melodie Harrison, fourth year; and Adonteng Kwakye, second year.

Students openly talked about specific issues and shared advice about their medical school experience with institute participants.

"Be confident and passionate about something and learn to talk about it," said Budde, who was attracted to MUSC because of the break with in-state tuition.

Third-year medical student Vandy Gaffney reminded students to really consider their choices for medical school and don't forget about their own research interests.

"You want to consider a place that helps you feel wanted and has an approachable environment with the right level of support to that allows students to work independently and provide support," said Gaffney, who also advised participants to submit their completed medical school applications early.

Fourth-year medical student Melodie Harrison is an alumnus of the MUSC's Summer Institute managed by the Office of Diversity and CAE. She attended as an undergraduate at Claflin University during the summers from 2000-2002. The program at the time was designed to strengthen a student's science knowledge base and helped prepare them for careers in health care.

"I think that the institute is a wonderful program for students who have made steps toward pursuing medical school without success," said Harrison. "Sometimes a student may have the tools to complete a task but just need a good blueprint of what specifics they should follow...meaning they obviously have the book knowledge, but just need guidance to properly apply that knowledge to a standardized test such as the MCAT. The summer institute provides that level of guidance."

Participants are making plans to take the MCAT exam and coordinate paperwork for the fall medical school application process, according to Eaddy.

Harrison shared one last piece of advice to participants; "Learn how you study best because the way someone else studies may not be effective for you. Remember to incorporate time for yourself, family and friends. Remember to sleep well to consolidate your knowledge. And have fun," she said.

Friday, Aug. 22, 2008
Catalyst Online is published weekly, updated as needed and improved from time to time by the MUSC Office of Public Relations for the faculty, employees and students of the Medical University of South Carolina. Catalyst Online editor, Kim Draughn, can be reached at 792-4107 or by email, catalyst@musc.edu. Editorial copy can be submitted to Catalyst Online and to The Catalyst in print by fax, 792-6723, or by email to catalyst@musc.edu. To place an ad in The Catalyst hardcopy, call Island Publications at 849-1778, ext. 201.