Swimmer wins gold at Transplant Games

by Cindy Abole




Public Relations


She may not have the tall, gangly stature of Olympic swimming sensation Michael Phelps, but at 5 feet, 3 inches Theresa Peters has the heart and prowess of an Olympian. And in July, Peters won medals in the swimming competition at the National Kidney Foundation's (NKF) 2008 Transplant Games in Pittsburgh.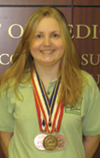 Theresa Peters with her gold and bronze medals.



Peters, 31, an accountant in the Department of Pediatrics, medaled in the 50-meter butterfly (gold), 100-meter individual medley (bronze) and 50-meter freestyle (bronze) in her age group of 30-39. It was her first competition since high school.

The 2003 double-lung transplant patient also lives with cystic fibrosis (CF), a chronic disease that affects thousands of children and adults, which often leads to life-threatening lung infections and other complications.

Peters' goal was not to make history like Phelps or Dara Torres, the 41-year-old Olympic medalist. She just wanted to do it for herself, her family and show she could succeed. Through swimming, she can enjoy life and test her limits. Like other active transplant recipients, she has managed to defy the odds and rely on her strength, stamina and attitude.

"I wanted to prove that I could do this and never lost my desire to compete," said Peters. "Participating in the games was unbelievably exciting and compassionate at the same time. I'm thankful that my new lungs are working great."

NKF's U.S. Transplant Games were established in 1990 to help foster transplant athletics and recognize transplant recipients, their families, donor families and friends. The four-day athletic competition is open to recipients of lifesaving organ transplants—heart, liver, kidney, lung or heterologous bone marrow.

Bill Merrill, M.D., professor of medicine, Division of Pulmonary and Critical Care, was Peters' swim lane partner as she began training more than a year ago at the Harper Student Wellness Center pool. Merrill saw that Peters possessed the fundamentals of an experienced swimmer, which included good stroke mechanics and technique; coupled with her strong work ethic and ability to compete.

"Theresa was putting a lot of energy and focus into her practices," said Merrill, a daily fitness swimmer at the center. "To prepare for the games, she worked on improving her time and building her endurance through swim drills and other aerobic exercise."

Last December, Peters' training was interrupted by illness, which resulted in her hospitalization in February with an infection. To a CF patient, this can be life-threatening.

"I came to a realization that there was a strong chance that I may not win at the Transplant Games," Peters said. "I was crushed."

She recovered under the care of family, along with several pulmonary specialists in the Division of Pulmonary and Critical Care, including Merrill, Antine Stenbit, M.D., Ph.D., and Patrick Flume, M.D., who manages the hospital's Adult CF Center.

"It's amazing to see Theresa's physical progress grow these past five years," said Flume. "Our clinic helps children living with CF grow up to become active and independent adults who are now able to live longer and enjoy a good quality of life. Theresa is the perfect role model."

Reflecting back on her summer experience, Peters recalled that her proudest moment was the 50-meter butterfly medal ceremony. She and two other event medalists stood proudly on a podium as transplant Olympic medalists. The three women all are double-lung transplant recipients who have won in life, both in and out of the water.





Friday, Aug. 22, 2008
Catalyst Online is published weekly, updated as needed and improved from time to time by the MUSC Office of Public Relations for the faculty, employees and students of the Medical University of South Carolina. Catalyst Online editor, Kim Draughn, can be reached at 792-4107 or by email, catalyst@musc.edu. Editorial copy can be submitted to Catalyst Online and to The Catalyst in print by fax, 792-6723, or by email to catalyst@musc.edu. To place an ad in The Catalyst hardcopy, call Island Publications at 849-1778, ext. 201.