UMA selects two scholars from MSTP program

by Mary Helen Yarborough




Public Relations


Two students in the College of Graduate Studies' Medical Scientist Training Program (MSTP) were selected as this year's UMA scholars through an initiative devoted to supporting students from South Carolina.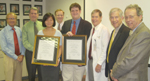 This year's UMA scholars Tina Zhang and Joshua Smith meet with the UMA executive board.



Tina Zhang of Lexington and Joshua Smith of Campobello met with UMA executive board during an award presentation Aug. 5. Both students are in their first year of the MSTP, a program designed to award dual M.D./Ph.D. degrees. Each spent this summer working with some of MUSC's most highly-respected researchers.

Zhang, who graduated from the University of South Carolina with a major in biology and minors in chemistry and medical humanities, spent the summer working with James Norris, Ph.D., chair of the Department of Microbiology and Immunology. Her lab work focused on studying the expression of acid ceramidase in head and neck squamous cell carcinomas.

Smith, a Wofford graduate who double-majored in biology and Spanish, worked with neuroscientist Naren Banik, Ph.D., on spinal cord injury therapies using melatonin and estrogen. It was Smith's second summer studying at MUSC. Last year as an undergraduate student, he studied lie detection using magnetic resonance imaging under Mark George, M.D., Distinguished Professor, Department of Psychiatry, Radiology and Neurology.

Perry Halushka, M.D., Ph.D., College of Graduate Studies dean and director of the MSTP program at MUSC, said, "The students are exemplars of the outstanding students that we have in our program.

"On behalf of the Medical Scientist Training Program, we are pleased that the UMA has awarded two scholarships this year. Their support of the program demonstrates their commitment to excellence in the training of M.D./Ph.D. students," Halushka said. "Indeed, it is unprecedented that an academic practice plan provides scholarships for these programs. This year's scholars Tina Zhang, an USC alumna, and Joshua Smith, a Wofford alumnus, were the sixth and seventh recipients of the scholarships. These are two outstanding students and the MSTP scholarship committee was unanimous in choosing them."

Halushka said that UMA's support of the MSTP program also demonstrates MUSC's institutional commitment to supporting biomedical research training. This institutional support, he said, is an asset in obtaining continued support from the National Institutes of Health, which currently is reviewing MUSC's application to renew the MSTP grant, Halushka said.



Friday, Aug. 22, 2008
Catalyst Online is published weekly, updated as needed and improved from time to time by the MUSC Office of Public Relations for the faculty, employees and students of the Medical University of South Carolina. Catalyst Online editor, Kim Draughn, can be reached at 792-4107 or by email, catalyst@musc.edu. Editorial copy can be submitted to Catalyst Online and to The Catalyst in print by fax, 792-6723, or by email to catalyst@musc.edu. To place an ad in The Catalyst hardcopy, call Island Publications at 849-1778, ext. 201.