Students head back to class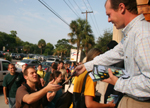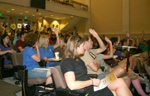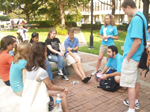 MUSC welcomed approximately 2,534 students back to campus last week. Starting at 8:30 a.m., new students lined the sidewalk on Calhoun Street to attend one of two orientation sessions at Baruch Auditorium. Below: Student Programs' Kevin Smuniewski and other staff distribute packets, containing an ID badge clip, phone card, and a Student Government Association calendar of events and brochures, to students. About 199 medicine and graduate studies students gathered at Baruch Auditorium where they were greeted by Student Government Association President Sheldon Bates, dental medicine; Valerie West, Ed.D., associate provost for education and student life; and MUSC President Ray Greenberg, M.D., Ph.D., and watched an orientation video highlighting the institution's academic mission.
Friday, Aug. 29, 2008
Catalyst Online is published weekly, updated as needed and improved from time to time by the MUSC Office of Public Relations for the faculty, employees and students of the Medical University of South Carolina. Catalyst Online editor, Kim Draughn, can be reached at 792-4107 or by email, catalyst@musc.edu. Editorial copy can be submitted to Catalyst Online and to The Catalyst in print by fax, 792-6723, or by email to catalyst@musc.edu. To place an ad in The Catalyst hardcopy, call Island Publications at 849-1778, ext. 201.