Volunteering pays off for teenagers

by Alex Jackson




Public Relations


Now that summer is in full swing, many students are looking for cool ways to beat the heat. Some teenagers would rather spend their summer break at home, but some eager-minded individuals are getting a head start on their careers by volunteering.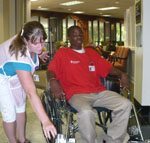 Courtney Kennedy and Brandon Maxwell demonstrate wheelchair techniques.



The Candy Stripe Program provides young people with an opportunity to explore different careers in health care. The students are able to work in many areas of the hospital including the Welcome Center at the North Tower lobby and the Research Support Center.

The teenagers are not just observing what happens in the hospital, they are participating in the experience. Hands-on training is an instrumental component of the learning process. "They are an extra set of hands," said Katy Kuder, manager of Volunteer Services. The students can assist the hospital staff which enables the staff to devote more time to their patients. The teenagers can run errands throughout the hospital and transport patients when being discharged.

The program has increased the number of hours worked by participants since its first year in 2007. Last summer, approximately 100 students volunteered nearly 5,000 hours. By the end of this summer, nearly 75 students from local high schools will have worked almost 6,000 hours.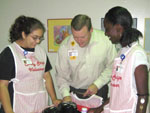 Robert Watson, volunteer recruiter, shows Maria Galvez and Princess Iheanetu how to serve coffee and tea.



Kuder credits the program's success to the youth's enthusiasm to give back to their community. The students are required to work 72 hours in a two-week period; however, many of the teenagers enjoy the experience so much that they work an additional week.

Jessica Hignutt, 16, and Chaniqua Washington, 15, worked at the Welcome Center. The girls appreciated the opportunity "to learn how to use a wheelchair properly," which is a necessary skill to have since both students would like to work in the health care field.

Volunteers also deliver flowers to patients, and serve tea and coffee to employees at the nurse's stations. Maria Galvez, 15, and Princess Iheanetu, 14, delivered tea and coffee throughout the hospital. "The tea cart is a big staff satisfier," Kuder said. "They look forward to seeing the cart, because it makes their day," Princess said. After employees are served, complimentary tea and coffee are offered to families.

Some of the volunteers have hopes of becoming nurses while others are interested in becoming doctors. MUSC volunteers also have gone on to become students and employees.

Maria wants to become a pediatrician, because she loves children. Because she was born prematurely, Princess aspires to become a neonatologist.

Jimmy Liu, 16, volunteered in the Research Support Center. He enjoys science and plans to become a doctor.

The volunteer program allows students to be productive during the summer. Many of the students are children of MUSC employees, which allows parents to bring their children to work. "It's a tangible benefit that the employees really enjoy," Kuder said.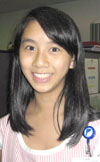 Emily Chong



Many of the hospital's faculty and staff gave positive feedback to the students and the volunteer program. Manager of Ambulatory Women's Health, Angela Raney, R.N., commented on the help given by Emily Chong. Emily was able to translate for a patient in her native language of Mandarin Chinese when a pregnant woman needed to get to the hospital. Raney appreciates Emily's ability to break the language barrier between the patient and the hospital staff.

Kuder is planning to make the Candy Stripe Program better each year. She would like to have candy stripers all year long. During the school year, students would be able to volunteer after school, which can be the most perilous time of day for students. Parents would not have to worry about their children, because they're in a safer environment.

Meanwhile, the trend of volunteering is changing. Many retirees are working in community hospitals instead of university hospitals. MUSC can cater to young people who are interested in a career in health care since it's a teaching hospital. Kuder would like to have pre-nursing students from area colleges to volunteer in the hospital because, "the doctors and nurses can provide a unique learning experience for the students," Kuder said.

The teens participating in the Candy Stripe Program this summer will receive a certificate, some goodies and a letter of completion for their school to recognize their achievement. The volunteer program is demonstrating their mission that MUSC is a place where young people have purpose and can make a difference in health care.

For more information on the volunteer program, call the MUSC medical center at 792-3580 or Ashley River Tower at 876-3102.

Visit the volunteer Web site at
http://www.muschealth.com/volunteer.

Friday, Aug. 8, 2008
Catalyst Online is published weekly, updated as needed and improved from time to time by the MUSC Office of Public Relations for the faculty, employees and students of the Medical University of South Carolina. Catalyst Online editor, Kim Draughn, can be reached at 792-4107 or by email, catalyst@musc.edu. Editorial copy can be submitted to Catalyst Online and to The Catalyst in print by fax, 792-6723, or by email to catalyst@musc.edu. To place an ad in The Catalyst hardcopy, call Island Publications at 849-1778, ext. 201.