CML provides fun for children with disabilities
by Jonathan Ewart




Public Relations


Baseball is said to be America's favorite pastime, but for the children who play the game with the Charleston Miracle League, it is so much more.

The Charleston Miracle League (CML) is a non-profit organization that provides baseball to all physically and mentally challenged children and adults in the Lowcountry area. Every Saturday during the spring and fall seasons, between 50 and 75 volunteers meet at Joe Griffith Miracle Field to assist more than 130 disabled players.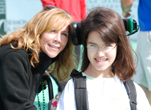 Patty Coker, left, and Sarah Lyles Long take a breather during a Charleston Miracle League game.



Because nearly 95 percent of the ballplayers are patients at MUSC's Children's Hospital, the league draws many of its volunteers from the university. "The league is run by dedicated volunteers," said Melissa Kubu, CML executive director. "We owe our great success to our wonderful volunteers and families," who are the "fans in the stands and buddies on the field." Volunteers also help with registration.

Accompanied by their buddies, more than 30 players come together for each game to hit balls, run bases and field the plays. In this game, every player scores and no one is called out. Everyone wins. The sense of inclusiveness helps make each player a star and keeps the volunteers coming back.

The inaugural pitch for the Charleston league was thrown November 2004 at Joe Griffith Miracle Field. The $250,000 fenced-in field, which sits on land donated by the City of Charleston, was built to accommodate the needs of the children. It was custom designed with a cushioned rubberized surface to help prevent injuries. The complex has since expanded to include a press box, a picnic pavilion, covered viewing area, restroom suites, concession stands and dugouts.

CML was founded by Channing Proctor, who raffled off his prized Ford T-Bird for the initial start-up money. The league, which is free to all participants, relies on charitable donations, community partnerships, fundraising, grants and volunteers to operate.

Sarah Lyles Long is one player who has benefited from Charleston's hospitality. Now 13, and a star player for the league's Astros team, she has been confined to a wheelchair since the age of 5 when a pontine stroke following brain tumor surgery left her with limited movement in her extremities.

"She was always her younger brother's biggest cheerleader whenever he had baseball or soccer games," recalls Sarah's mother Rebecca. "She loved encouraging him as he ran down the field or around the bases, but at the same time she longed to participate in a sport herself."

That all changed with CML. It offered her a place to participate in a sport where the barriers were removed and the fans were cheering her on from the bleachers. "If you ask her why she loves the Miracle League, she'll say simply, 'Because it's fun.' But really, it's more than that. The Miracle League has provided Sarah a place where she feels encouraged, validated and loved. The brilliant smile she flashes as she crosses home plate tells it all," her mother said.

Patty Coker, president of the CML Board of Directors, immediately recognized the great need for recreational activities for children with disabilities in the Charleston area when she first heard of the program. "Many of the children I worked with had little to no options for recreation in the community," said Coker, who also is an instructor in MUSC's Occupational Therapy Educational Program. "Now, the Charleston Miracle League has more than exceeded my expectations."

She recalls that the students in the College of Health Professions programs were critical to the success of CML, especially in the early days when they needed volunteers. "Students helped run the league before we hired an executive director and now continue to commit many hours on Saturday mornings volunteering to buddy at games," she said.

Other MUSC alumni and employees who volunteer as board members include Roe Imburgia, a graduate of the occupational therapy program; Erin Carlton, a graduate of the physical therapy program; Helena Bastian, a human resources employee at the medical center, and Bobby Rentz of MUSC's Office of Accounting.

CML is a national organiza-tion that serves more than 80,000 children and young adults with disabilities in 200 locations through out the country, including Puerto Rico. The success of the Charleston-based league has led to a new franchise in Summerville, which will break ground with an exhibition game Sept. 25 at Saul Alexander Park.

The 2008 CML fall season begins Sept. 20 and will end Nov. 8. There will be three youth games every Saturday during the season from 9 to 11 a.m. and one adult game at noon. Games are held at Joe Griffith Miracle Field at Forest Park Playground, 780 West Oak Forest Drive in West Ashley.

For information, contact Melissa Kubu at 763-2513, e-mail miracleleagueed@gmail.com or visit http://www.charlestonmiracleleague.org/.

Friday, Sept. 12, 2008
Catalyst Online is published weekly, updated as needed and improved from time to time by the MUSC Office of Public Relations for the faculty, employees and students of the Medical University of South Carolina. Catalyst Online editor, Kim Draughn, can be reached at 792-4107 or by email, catalyst@musc.edu. Editorial copy can be submitted to Catalyst Online and to The Catalyst in print by fax, 792-6723, or by email to catalyst@musc.edu. To place an ad in The Catalyst hardcopy, call Island Publications at 849-1778, ext. 201.