MUSC Excellence at the medical center
Employees recognized for job well done
People: Fostering employee pride in the workplace



Employees of the Month for July
George Chajweski (Dietary) and Chris Summers (Environment of Care) received the following nomination: "I saw a family in the ICU waiting room in a lot of pain over the fact that a member of their family was given 12 hours to live. They were expecting 20 to 30 members of the family to come to say their goodbyes. All available waiting rooms that would hold that many were full. I discovered the dinning room on the 10th floor empty of people, but the lack of comfortable seating would not comfort a family in need. I ran into George and Chris, who work in catering and environment of care, while I was pondering where to move the unused sofas from the game room into the dining room for this families comfort. George and Chris stopped what they were doing and said, "We'll do it. Where do you want them?" The next thing I knew, George and Chris were moving sofas and soft chairs into the dining room and rearranging the furniture without any thought of inconvenience. They just jumped in and made the unused space a comfortable haven for a grieving family. This is certainly outside of the scope of their daily duties, yet they offered up help without any second thought. This to me is what this Applause award is all about. They put this family, strangers to them, first on the priority list without ever being asked to assist. With George and Chris, Excellence was truly demonstrated. Moving furniture may not seem very heroic in the scope of what goes on at MUSC, but this random act of kindness afforded a family a secluded space to gather and grieve.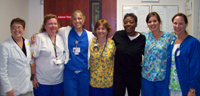 Renata Early, third from right, with staff of the Pediatric Same Day.

Renata Early (Pediatric Same Day) received the following nomination: "Renata went above and beyond by escorting a patient and a family member on the MUSC shuttle and to a local hotel and getting them checked in and settled. She then made arrangements with the desk clerk to give the family a 4 a.m. wake up call and have them in the lobby by 5 a.m. The patient had to be at the hospital for his 5:30 a.m. surgery appointment. Both members of the family have a learning/social disability and were dropped off by other family members."


Physician of the Month for July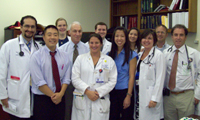 Dr. Stacey Vallejo, front row second from left, is congratulated for receiving the Physician of the Month by team members from the Pulmonary, Critical Care, Allergy and Sleep Medicine departments.



Stacey Vallejo, M.D., MICU, July Physician of the Month: "Recently, we had the pleasure of having Stacy Vallejo as our ICU fellow in MICU. She had been called to assess a patient in respiratory distress on 10 East. The nurses, respiratory therapist and doctors had been trying to manage the care of this oncology patient in respiratory distress for the previous 12 hours. The patient was struggling to breath, she was extremely anxious, and her blood gas showed that intubation was needed. The patient's family was at the bedside and were also extremely on edge as they watched their loved one struggling to breathe. Stacy spent time discussing the patients' options with the family. She brought a sense of calm to the urgency and displayed an equal mix of competence and empathy. Because the family was extremely anxious, Stacy invited them down to MICU to meet the nurses and go over the plan of care before the patient even arrived. Bringing the family down to see where their loved one would be staying, meeting the nurses that would be caring for her, solidifying the plan of care and answering their questions was just what this family needed. The meeting helped the family and the patients' transition to the ICU go much more smoothly. I don't remember having a family meeting like this before, but I firmly believe that it made a tremendous difference for this family. I believe that this is a perfect example of how Stacy consistently goes above and beyond for the MUSC community and thus we are nominating her for the MD magnet award." (Nominated by August and Emmy)



Benefit of the Month for September



Medical Spending Accounts permit eligible employees to pay for out-of-pocket medical expenses with pre-tax dollars. Eligible expenses include dental, vision, medical insurance and drug co-pays and deductions, experimental treatments that are medically necessary.
In October, employees should estimate their anticipated expenses for 2009 (up to a maximum of $5,000). Employees can enroll or renew the amount deducted from their paycheck in October. Claims are submitted for reimbursement through a state-contracted vendor, FBMC.
Participants also can use the EZ reimburse MasterCard to pay for expenses up front.
Employees are reminded that the program has a use-or-lose provision.
Friday, Sept.12, 2008
Catalyst Online is published weekly, updated as needed and improved from time to time by the MUSC Office of Public Relations for the faculty, employees and students of the Medical University of South Carolina. Catalyst Online editor, Kim Draughn, can be reached at 792-4107 or by email, catalyst@musc.edu. Editorial copy can be submitted to Catalyst Online and to The Catalyst in print by fax, 792-6723, or by email to catalyst@musc.edu. To place an ad in The Catalyst hardcopy, call Island Publications at 849-1778, ext. 201.