Gathering embraces Excellence journey

by Cindy Abole




Public Relations


It was a rousing, family-like atmosphere when about 900 people attended the institution's first integrated Leadership Development Institute Aug. 15. The gathering provided a historic event, connecting people from both the medical center and university as part of the institution's commitment to MUSC Excellence within a rousing, family-like atmosphere.

"This is an amazing day," said MUSC President Ray Greenberg, M.D., Ph.D., who served as host of the event at the Charleston Area Convention Center. "There's been no other time in our institution's history when the MUSC family has gathered on this size and scale."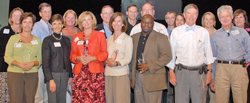 Excellence in Action Award winners and leaders are recognized in the

Aug. 15 integrated Leadership Development Institute session.



The meeting's goal was to reflect on the MUSC Excellence journey—seeing how excellence has contributed to building a better workplace and improving overall employee and patient satisfaction. In addition, staff learned about each other and responsibilities while recognizing a workplace culture of excellence, ownership and responsibility. The meeting also focused on looking ahead and expanding the excellence initiative throughout the entire organization.

The agenda featured speakers who shared examples of "Excellence in action" as described by five of MUSC's vice presidents: Stuart Smith, MUHA; Lisa Montgomery, University Finance & Administration; Jerry Reves, M.D., College of Medicine (COM)/University Medical Associates (UMA); Frank Clark, Ph.D., University-Office of the Chief Information Officer (OCIO); and John Raymond, M.D., University. Each leader described their department's individual missions, success and path toward MUSC Excellence introduced through video vignettes.

Smith, who is vice president for clinical operations and executive director, initiated MUSC Excellence in 2006 with Montgomery, who is vice president for Finance & Administration, and engaged in the process afterwards. In Spring 2007, COM and UMA began its MUSC Excellence journey. OCIO followed in 2007. In July, the remaining colleges and departments joined the institution's lead by applying the Excellence principles to its interrelated missions of education, research and clinical service.

"The Excellence initiative is about learning how we can work together effectively to accomplish our missions, encourage dialogue and accomplish better teaching scholarship and service," said Raymond.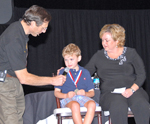 Dr. Ray Greenberg interviews Joseph "JoJo" Greenwood and mom, Angela during the LDI. JoJo was recognized by MUSC and the City of Charleston for his courage as a patient and celebration of Joseph Greenwood Day, Aug. 15.



The day provided poignancy when Greenberg and attendees recognized Aug. 15 as Joseph "JoJo" Greenwood Day. JoJo, a 7-year-old boy from Florence, became South Carolina's first recipient of the Berlin Heart pump and heart transplant in March 2006. As the event's honored guest, JoJo was accompanied on stage by his mother, Angela, while his father and sister watched in the audience.

"What happened at MUSC changed our lives forever," said Angela Greenwood. "We're thankful for this ultimate outcome. MUSC gave our boy back to us. It wouldn't have been possible without everyone coming together and helping us. We're grateful to all of you everyday and send a thousand thanks."

Keynote speaker Quint Studer touched upon the highlights of MUSC Excellence —fundamentals of leadership, aligning behaviors through accountability; the use of tools like evaluations, AIDET (Acknowledge, Introduce, Duration, Explanation and Thank You) and benefits of hourly rounding to improve employee and patient outcomes.

He emphasized that good leadership within health care systems leads to improvements in patient care and employee satisfaction and helps the organization meet its overarching missions for clinical care, research and education.

In an effort to emphasize progress with excellence throughout the institution, MUSC leadership acknowledged 11 stand-out individuals for their commitment and service as Excellence ambassadors. MUSC Excellence in Action awards were presented to: Karen Rankine, MUHA Human Resources; Mark Wagner, M.D., IOP; Shannon Ravenel, Ambulatory Care; Randy Trussell, Grants and Contracts Accounting; Cathy Wood, Department of Medicine; Chris Carr, M.D., Department of Emergency Medicine; Monica Gardner, Department of Neuroscience Research; Nick Whichard, OCIO-Information Services; Wendy Littlejohn, Division of Education and Student Services: Mary Mauldin, Ed.D., Center for Academic and Research Computing, Library Services; and Theresa Kelechi, Ph.D., R.N., College of Nursing.


Coordinated planning, key to event's success

What's key to planning an event for 900 MUSC employees? Advanced planning, organization and team effort according to Beverly Carson, who serves on the COM/UMA Leadership Development Institute (LDI) Steering Team. Vicki Marsi, the Integrated LDI team champion and a group of other leaders from MUSC's seven Excellence entities helped plan, prepare and orchestrate the Aug. 15 Integrated LDI event at the Charleston Area Convention Center.

"Our goal was to bring everything together for this effort," said Carson, who noted the differences between planning for this meeting and preparing for one of the COM/UMA's LDI. "We couldn't have done it without good communications, hard work and leadership, especially among members of the planning committee."

A logistics team led by Shannon Ravenel, Ambulatory Care, and Julie Acker, UMA compliance, organized event details from preparing slide presentations, seating, table arrangements, attendance, meals and snacks as well as coordinated the audio systems to lighting. No detail was missed by this group.

"It was pretty impressive to see the result of our work, planning and preparation," said Melissa Forinash, IT director and comptroller, Office of the CIO and member of the integrated LDI planning team. "There were many unifying and celebratory aspects of the meeting especially the connect to purpose piece featuring MUSC Children's Hospital patient Joseph Greenwood. It was so valuable and reminded me and other employees of our larger mission and what everyone does matters everyday."

Forinash, who works on OCIO's Excellence team, joined other volunteers to collaborate and provide input in preparing their department's Excellence videos.

"We wanted to promote the fact that our IT mission is all about enabling technologies to support the broad mission of MUSC and its various entities – it goes beyond just providing workstation support," said Forinash, who added that the video focused on the department's emphasis on collaboration and controlling economies of scale as it relates to people and technologies.

Members of the planning team began meeting almost a year prior to the Aug. 15 event, with the actual planning team formalized in May.

The experience also was exciting to Finance & Administration Excellence coordinators Jennifer Taylor, University Risk Management, and Julie Ham and Lindsey McMurrary of Engineering and Facilities. They and other members saw how the excellence message was effectively communicated on a larger scale. F&A Excellence has hosted more than 72 department leaders, representing more than 630 employees, at seven of their quarterly LDI retreats. All of them attended the Integrated LDI event.

"Our theme was to emphasize how staff can be equally valued throughout the MUSC Excellence journey and sharing best practices," said Taylor. "Our biggest challenge was coordinating to accommodate messages and vision presented by MUSC's five vice presidents."

"We concentrated on making sure the integrated program's curriculum was both interesting and educational for attendees and I think we accomplished that," Taylor said. "The event helped leaders see how MUSC Excellence plays into each area's missions and goals. It provided inclusion and reminded participants that their presence had real meaning. Employees learned the fundamentals of excellence, and that by understanding each other we can work better together and make a difference to our institution and improve patient care."



Friday, Sept. 12, 2008
Catalyst Online is published weekly, updated as needed and improved from time to time by the MUSC Office of Public Relations for the faculty, employees and students of the Medical University of South Carolina. Catalyst Online editor, Kim Draughn, can be reached at 792-4107 or by email, catalyst@musc.edu. Editorial copy can be submitted to Catalyst Online and to The Catalyst in print by fax, 792-6723, or by email to catalyst@musc.edu. To place an ad in The Catalyst hardcopy, call Island Publications at 849-1778, ext. 201.