MUSC secures public place to nurse babies

It's hard to deny the benefits associated with breastfeeding a child during the first year of life. Public, clean and comfortable places to breastfeed a child had been denied to many South Carolina women until recent legislation was enacted on behalf of the MUSC Women & Infant Services and community partners.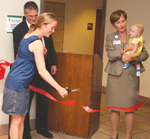 New mom Lee Bruner cuts the ribbon outside the MUSC Women & Infant Services Nursing Lounge at Citadel Mall Sept. 4. John Sanders, Children's Hospital administrator, reminded attendees just before the ribbon was cut that MUSC provides excellent care not only for high-risk pregnancies but for uncomplicated pregnancies as well. Debbie Browning, Perinatal Services interim director also offered comments about the service and helped to keep Bruner's son, Freddie, occupied while she cut the ribbon.



Nursing mothers, who have struggled to find convenient and sanitary places to breastfeed their children, will now be able to nourish their children while out and about thanks to the MUSC Women & Infant Services-sponsored nursing lounge in Citadel Mall, located in West Ashley.

"This nursing lounge demonstrates MUSC Women & Infant Services commitment to the women in our community, and to the importance of continuing to breastfeed during the first year of life," said Debbie Browning, R.N., interim director for the department. "It provides a comfortable and restful area for moms to breastfeed; as well, it provides educational information and support for the nursing mother."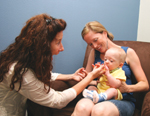 Bruner sits in one of the chairs in the new lounge as MUSC lactation consultant Jeanne Barreira entertains Freddie. Nursing mothers, who have struggled to find convenient and sanitary places to breastfeed their children while in public, now have a location thanks to the MUSC Women & Infant Services sponsored nursing lounge.



The nursing lounge also provides information about accessing MUSC lactation consultants should nursing mothers have questions, or simply need someone to talk to and support their experiences. Well-versed in many of the problems that nursing mothers may encounter, these consultants can provide invaluable support.

In addition to partnering with the South Carolina Breast Feeding Coalition and South Carolina Department of Health and Environmental Control to provide additional information through the lounge, MUSC Women & Infant Services continues to offer a level of care for mother and baby unparalleled in the area.

"We're extremely fortunate to have very specialized services at MUSC. At our hospital, with the help of maternal-fetal medicine specialists to care for patients during their pregnancies and neonatologists to care for the babies needing extra medical attention, we are able to care for the most complex cases along with the routine," said Jill Maudlin, M.D., Obstetrics and Gynecology. "I believe we're also unique because of our approach to the mother-baby unit across our service—as mothers and their babies will room together unless there is a medical reason not to do so. We provide the community's only access to this specialized care, where all of the mother's and child's medical issues can be addressed in full."

Indeed, the nursing lounge and the community care it provides are but one facet to MUSC Women & Infant Services' mission to provide excellent care for mothers and children.

"What is special about us is that we offer services for every kind of patient. We all expect pregnancies to go well and in most cases they do," said John Sanders, MUSC Children's Hospital admin-istrator. "Sometimes there are challenges, and we have the expertise to take care of the mother, baby and family no matter what the issue might be. We provide that secure feeling for comprehensive care. The Nursing Mother's Lounge illustrates our focus on providing excellent care and education to the families of our community."

In recent years, research and policies set forth by the American Academy of Pediatrics illuminate the many benefits associated with breastfeeding children until their first birthday. These include:

better outcomes for breastfed preemies versus formula-fed preemies;
decreased risk of infectious disease;
decreased infant mortality rates;
decreased rates of sudden infant death syndrome during the first year of life (some studies);
decreased rates of diabetes;
decreased risk of various cancers;
decreased risk of being obese or overweight.
And its not just children who benefit from breastfeeding. Mothers who breastfeed see decreased postpartum bleeding, earlier return to pre-pregnancy weight, decreased risk of breast cancer and ovarian cancer, and possibly a decreased risk of hip fractures and osteoporosis later in life.



Friday, Sept. 12, 2008
Catalyst Online is published weekly, updated as needed and improved from time to time by the MUSC Office of Public Relations for the faculty, employees and students of the Medical University of South Carolina. Catalyst Online editor, Kim Draughn, can be reached at 792-4107 or by email, catalyst@musc.edu. Editorial copy can be submitted to Catalyst Online and to The Catalyst in print by fax, 792-6723, or by email to catalyst@musc.edu. To place an ad in The Catalyst hardcopy, call Island Publications at 849-1778, ext. 201.