Chinese nurse's passion bridges cultures
by Cindy Abole




Public Relations


While Jianping "Ping" You may be thousands of miles from home in Chongqing City, China, it's her dedication to nursing and clinical care that crosses all borders and cultures.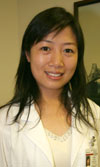 Ping You



You spent her summer at MUSC observing nursing care practices, talking to nurse managers and clinical leaders about improvements to nursing standards, quality control of nursing care and nursing management as an international nurse visitor experience sponsored by the medical center.

You, a nurse manger in the Department of Infectious Disease at Southwest Hospital ( a 2,200-bed teaching hospital affiliated with the Third Military Medical University of the People's Liberation Army), has more than 16 years experience in critical care nursing and infection control. With China's modernization and upward signs for a growing economy, You and other health care colleagues received funding for travel for international training and educational experiences.

"I always knew nursing was the right job for me," said You, 34, who also is a wife and mother to a 9-year-old daughter. "I heard a lot about the quality of care provided by nurses in the United States. I wanted to observe and compare the two systems and see for myself about these differences."

You's introduction to MUSC and Charleston was fortuitous. A friend and fellow Third Military Medical University alumnus, Linsheng Zhang, M.D., Ph.D., a pathology resident in the Department of Pathology and Laboratory Medicine, knew of You's interest to go abroad. You contacted her friend and his wife, Tian, also a nurse, as they completed their training in the United States.

In December, Zhang e-mailed Marilyn Schaffner, Ph.D., R.N., clinical services administrator and chief nursing executive, about the idea. Schaffner turned to Yvonne Martin, R.N., the hospital's nurse retention and community outreach coordinator, to organize details. It would be You's first visit to the United States.

Just prior to her travel in May, You was delayed as she and other nurses and volunteers were called away to assist in providing medical care services to victims of the May 12 Sichuan earthquake.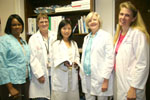 Once here, she rotated with Linda Formby, R.N., and the Infection Control staff, plus other clinical areas. She spent time reviewing policies, learning about the standardized use of personal protective equipment and medical terminology related to infection control.

Regarding the MUSC clinical practices and ideas she would share with Southwest hospital administrators, You cited technological improvements and computer equipment, especially with her hospital's sterile processing systems. You spent some time observing MUSC's computerized barcode scan feature that's used for instrument tracking and organization. Like her American colleagues, she also would like to see improvements to nurse staffing levels, especially with the infection control staff, and improving nurse/patient ratios. According to You, China also suffers from a nursing shortage.

"We've really enjoyed hosting Ping in our department," said Formby. "She was always willing to do things along with our staff and has been patient and helpful to us. Ping's bright and conscientious. She possesses the same qualities of an ideal nurse manager —one who spends time with her patients and focused on building and supporting the nursing team."

Martin lauded the nurse visitor experience and praised Schaffner for her vision, Tracy Farber of MUSC Digestive Disease Center and MUHA Human Resources nurse recruiters for their support. "After three months, Ping has been so welcomed around the medical center," Martin said. "Her presence opens up new opportunities for projects that we can get involved with and offer to others like her. This is a new path for us and I'm sure we will be exploring other opportunities for international exchange."

On Sept. 24, You will say to her newfound friends and colleagues, "zai jian," Mandarin for "goodbye, I hope we'll meet again."

Friday, Sept. 19, 2008
Catalyst Online is published weekly, updated as needed and improved from time to time by the MUSC Office of Public Relations for the faculty, employees and students of the Medical University of South Carolina. Catalyst Online editor, Kim Draughn, can be reached at 792-4107 or by email, catalyst@musc.edu. Editorial copy can be submitted to Catalyst Online and to The Catalyst in print by fax, 792-6723, or by email to catalyst@musc.edu. To place an ad in The Catalyst hardcopy, call Island Publications at 849-1778, ext. 201.