Fall Healthy Charleston Challenge kicks off

by Cindy Abole




Public Relations


Eighty Lowcountry men and women gathered at the Harper Student Wellness Center Sept. 11 and committed themselves to a healthy and active lifestyle.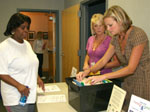 MUSC Healthy Charleston Challenge program nutritionist Judith Herron, right, assists program assistant Whitney Rathbone, center, as they retrieve the file and check in a Challenge participant during the Sept. 11 kick-off meeting.



By participating in the fall MUSC Healthy Charleston Challenge, these individuals will spend the next 12 weeks pushing themselves through physical activity and exercise. They will count calories and make better food choices, all in the spirit of competition with others aiming to become the fittest, slimmest and healthiest by the time the challenge ends one week before Thanksgiving Day.

Every day will serve as a reminder, as they routinely weigh themselves throughout this lifestyle change program. Participants also are urged to maintain a food-and-activity log and commit to participating in some type of physical activity for at least 30 minutes a day.

In an effort to help illustrate each team's weekly progress and weight loss, organizers have announced a donation program benefiting the Lowcountry Food Bank. For every pound lost by participants and teams, the program will donate a pound of food to the Food Bank.

Competitors are organized in 11 teams. Each team has a trainer and mentors. Mentors are two or three individuals who have completed the winter Healthy Charleston Challenge and were recruited to volunteer their time and serve as guides and supporters for participants and teams.

Team sponsors include MUSC Weight Management Center, Charleston County Parks and Recreation, MUSC Boot Camp, Access Healthcare (Mount Pleasant and Downtown Charleston), Jason's Deli, Anderson Insurance, Joe D. Bands, The Culinary Institute of Charleston at Trident Technical College, Charleston Fit Quest and Adventure TeamWorks.

This is the second MUSC Healthy Charleston Challenge program organized for 2008 and led by Harper Student Wellness Center program director Janis Newton. The program supports a statewide health initiative endorsed by Gov. Mark Sanford and wife Jenny called the Healthy South Carolina Challenge, which brings awareness to the health status of South Carolinians and promotes change through regular exercise and healthy choices. Jenny serves as honorary chair of the fall Challenge program.

"Everyone who's signed up for the fall Healthy Charleston Challenge knows that they need to make improvements to their health," said Newton. "The Challenge is not designed to be a start-and-stop program; it's a lifelong commitment to change. We're hoping to instill these participants with the right attitude, motivation and determination to permanently change lifestyle habits and decrease their risk for chronic disease."

Challenge participants gathered Sept. 11 at the Harper Student Wellness Center Auditorium, where they will meet weekly for a 45-minute educational program prepared by program professionals. Participants completed a weekly weigh-in and were officially introduced to their team mates, trainers and a team of 27 mentors. They also were introduced to program professionals including Judith Herron, registered dietitian and program nutritionist; David Albenberg, M.D., program physician; Josh Brown, Ph.D., program psychologist and James Johnson, head trainer.

Teams and participants will have the chance to compete for prize packages and provided by Challenge sponsors. Winners in this competition will be determined based on percentage body weight lost by the entire team and individually. First place team prizes — $100 cash (Anderson Insurance and Jason's Deli); a Gold Pass annual membership to Charleston County Parks; cooking class (Culinary Institute of Charleston/TTC); and Pilates Training session (MUSC Pilates Studio). Second place team prizes—$50 cash (Anderson Insurance and Jason's Deli) and a Gold Pass annual membership to Charleston County Parks; Overall winner (highest percentage body weight lost—a week with adventure vacation by Fit Quest (female) and tickets to an NFL football game (male) by Joe D. Bands.



Mentors add experience, support to Challenge


New to the fall MUSC Charleston Healthy Challenge is the presence of experienced mentors on teams. Mentors were recruited from the winter Charleston Healthy Challenge teams to serve as leaders and supporters for fall teams. During the Sept. 11 kick-off meeting, Newton unveiled several before/after success story posters of several mentors who completed their wellness journey. A couple shared their own testimonials.

"The program helped save my life," said John Seamens of last winter's Jason's Deli Challenge team. Seamens struggled with his weight and was diagnosed with borderline high blood pressure prior to starting the program. He began the program weighing 217 pounds. Within 10 weeks, he slimmed down to 173 pounds (a 44 pound weight loss) through exercise, healthy eating and support from his team, friends and family.

Mentor Nicole Harvey, echoed Seamens' recipe for success. Harvey was a member of the Center for Theapetuic Massage team and spoke to the audience of her love affair with comfort food following the tragic death of her sister almost nine years ago. After years of failed weight loss programs, little motivation and no willpower, she signed up for January's Challenge.

"Looking back, it was an exciting time for me with the team work, invaluable education and spirit of competition," said Harvey, who lost 40 pounds and achieved a 19 percent total body fat loss. "Today I have more energy in my life than I can remember. I'm committed to being a fit and active mom for my family and improving my health."



Friday, Sept. 19, 2008
Catalyst Online is published weekly, updated as needed and improved from time to time by the MUSC Office of Public Relations for the faculty, employees and students of the Medical University of South Carolina. Catalyst Online editor, Kim Draughn, can be reached at 792-4107 or by email, catalyst@musc.edu. Editorial copy can be submitted to Catalyst Online and to The Catalyst in print by fax, 792-6723, or by email to catalyst@musc.edu. To place an ad in The Catalyst hardcopy, call Island Publications at 849-1778, ext. 201.