Doctoral student wins diversity scholarship
by Mary Helen Yarborough




Public Relations


A student enrolled in the College of Nursing's online doctoral program has won one of 11 national scholarships from the American Association of Colleges of Nursing (AACN) as a part of the Minority Nurse Faculty Scholars initiative.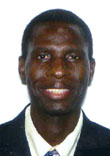 Julius Kehinde



Julius Kehinde, R.N., an MUSC Ph.D. candidate, won an $18,000 scholarship awarded by the Johnson & Johnson Campaign for Nursing's Future - AACN Minority Nurse Faculty Scholars Program, AACN announced Sept. 18.

An online student who lives in California, Kehinde is entering his second year of doctoral course work at CON, according to Dean Gail Stuart, Ph.D., R.N. "He is highly regarded by faculty and students alike for his thoughtful inquiry, focused conscientiousness and boundless enthusiasm," Stuart added.

His research interest is in examining the factors that prevent falls in long term care facilities and residential communities, said Stuart.

"Julius Kehinde is an exceptionally bright, mature student, typical of our other students," said Gail Barbosa, Ph.D., R.N., director of the doctoral program.

Kehinde received his bachelor's degree from Obafemi Awolowo University in Nigeria and his master of science in nursing from the University of Phoenix. He works as a charge nurse at Loma Linda University Medical Center and is a member of Sigma Theta Tau, the Gerontological Society of America, and Western Institute of Nursing.

CON's Ph.D. program, which is entirely online, has 38 students enrolled, 16 of whom live in South Carolina, Barbosa said. The others live across the United States, including California, Colorado, Florida, Wisconsin, Texas, North Carolina, and Georgia, and in Canada.

"The purpose of the program is to produce nurse researchers, and our courses support students in developing the skill sets for scholarship and grant submission," Barbosa said. "We are seeing tremendous outcomes among students with many receiving external funding and published articles."

The program includes learning activities that are posted so students can work and interact asynchronously, or at anytime and from anywhere.

"Our students really enjoy the relationships they build online, and most state that they are closer than in the traditional classroom," Barbosa said. "[These students] tend to be older, have families, and work full time in leadership positions. Obviously they are motivated to be successful, and the online format allows them to achieve their goals."

Launched a year ago, the AACN program was modeled after the California Endowment Program to support full-time minority students enrolled in graduate nursing programs. Scholarships were awarded through two separate programs funded by the California Endowment and the Johnson & Johnson Campaign for Nursing's Future, which were launched to address the shortage of nurse faculty and enhance diversity within the population of nurse educators. These programs provide financial support and professional development to graduate students who agree to teach in a school of nursing after graduation.

The scholarship program invites applications from students in master's and doctoral programs across all 50 states who will serve as nurse faculty after earning their graduate degree. Scholarship recipients were selected by a 10-member application review committee.

"Nursing's academic leaders recognize the need to accelerate faculty development strategies and facilitate academic careers among nurses from groups under-represented in nursing," said AACN President Fay Raines.

For a list of the other scholars, visit http://www.aacn.nche.edu/Media/pdf/CAscholars08.pdf and http://www.aacn.nche.edu/Media/pdf/JJScholarsF08.pdf. For details on the nurse faculty shortage and efforts to enhance diversity within the nursing profession, visit http://www.aacn.nche.edu/Media/FactSheets/FacultyShortage.htm and http://www.aacn.nche.edu/Media/FactSheets/diversity.htm.



Friday, Sept. 26, 2008
Catalyst Online is published weekly, updated as needed and improved from time to time by the MUSC Office of Public Relations for the faculty, employees and students of the Medical University of South Carolina. Catalyst Online editor, Kim Draughn, can be reached at 792-4107 or by email, catalyst@musc.edu. Editorial copy can be submitted to Catalyst Online and to The Catalyst in print by fax, 792-6723, or by email to catalyst@musc.edu. To place an ad in The Catalyst hardcopy, call Island Publications at 849-1778, ext. 201.