Global Health
India: a land of rich cultural heritage, diversity
Editor's note: Welcome to the Global Health page. The purpose of this feature is to raise awareness of global health issues with an academic spirit to help improve the quality of care provided to patients. E-mail globalhealthnews@musc.edu.





by Andrea P. Summer, M.D.


This month's feature is India, the world's most populous democracy with more than 1 billion people.

Graduate student Tejas Tirodkar highlights cultural practices observed by expectant Indian mothers and describes the impact of these rich traditions on the developing fetus. Her narrative complements Natalia Davila's account last month of improved maternal outcomes related to enhanced prenatal programs in Colombia. These stories underscore how the elements of physical, mental and spiritual well-being are necessary to ensure the optimal health of an individual.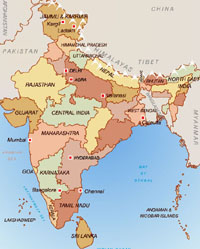 India facts
Indian Railways is the biggest employer in the world—employs more than 1 million people.
Medical tourism in India is expected to generate more than $2.5 billion in revenues by 2012.
India has more than 45 folk dances and seven classical dance forms.
325 languages are spoken in India with 1,652 dialects.
Life expectancy in India is 64 years for males and 66 years for females (2005).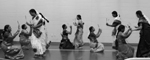 Indian ladies perform the Pongal dance (Harvest Festival of southern India) in the Harper Student Wellness Center gym Jan. 19. The Kolattam is performed as a folk dance by women of theTamilnadu State of Southern India. Dancers from left are Kalaivani, Vinu, Thirumagal, Uma (behind Thirumagal), Yesodha, Vidhya, Anandhi, Janaki, Subathra and Valarmathi.
Motherhood leans on traditions, values

by Tejas S. Tirodkar




Student, College of Graduate Studies


The tests are positive and the doctor has confirmed your suspicions—you are being blessed with a baby! Advice begins pouring in, leaving you as confused as ever. Amidst all this chaos, however, most Indian women find refuge in an old friend—tradition. This article discusses a few commonly observed prenatal care traditions in India known as Garbha Sanskar.

First, the news of conception is kept secret during the first trimester so that the baby is protected from the "evil eye" in order to develop normally. From the fourth month of pregnancy, two Ayurvedic ghees made from cow's milk and herbs—the Kalyanakam Ghruta and the Thanka sree ghruta are ingested to prevent maternal anemia and aid in the normal development and delivery of the baby*.

In India, the mother is regarded as the first guru and her teachings begin at the womb. Hence, the expectant mother is encouraged to read scriptures and biographies of great men and instill the values of spirituality, ethics and duty in the fetus. This also uplifts the spiritual and mental health of the mother and strengthens her bond with the baby. She is pampered and kept happy and her whims, Dohale, are taken care of to encourage positive thoughts. This pampering culminates into a Dohali jevan or Godh bharai, which is a feast given in the seventh month to honor the mother, much like a baby shower. Her every fancy is catered to, and the feast is full of sweets, tangy pickles and spicy chutneys. Her motherhood is enhanced by the fragrant flowers adorning her hair, wrists and neck. She wears a crown and resembles a goddess in all her finery. Thus, armed with a combination of spiritual, mental and physical health care, the Indian mother shares her love with her child prior to giving birth.
*http://ayurveda-foryou.com/women/garbhasanskar.html


Announcements
The Global and Tropical Medicine Group will present Ken Holden, M.D., and Anne Matthews, College of Medicine student, who will speak about their medical work/research in Honduras 6 p.m. Oct. 14 in the Storm Eye Institute Auditorium. All are welcome to attend.
English classes at MUSC slated for Sept. 27. q International Charleston History Walking Tour to be held Oct. 4.
October ISA/IA Halloween Lunch Meeting scheduled for Oct. 29.
For information on the events listed above, visit http://www.musc.edu/international.

To obtain a listing of funding or training opportunities in global health, subscribe to the OrdAlerts listserv for International/Global Health.

Sign up on the OrdAlerts Web Page (http://research.musc.edu/ordalerts_lists.html) or e-mail Peggy Schachte at schachte@musc.edu.


Clinician's corner

A 5-year-old boy who recently traveled to rural India with his parents to visit relatives presents to the emergency department with fever, malaise, abdominal pain, and headache. He had diarrhea while traveling, which has resolved. He had no pretravel vaccines but did take the appropriate antimalarial medication. Exam is significant for T 105F, a pulse of 90, a mildly enlarged liver, and a faint macular rash on his trunk. No jaundice noted.

The most likely diagnosis for this patient is:
A. Typhoid fever
B. Hepatitis A
C. Leishmaniasis
D. Japanese encephalitis

The correct answer is A.

The most likely diagnosis is typhoid fever. Symptoms typically noted with typhoid fever include high fever, abdominal pain, weakness, headache and sometimes a rash of flat, rose-colored spots. A relative bradycardia or disproportionately slow pulse for the severity of fever is often observed.

More than 20 million cases of typhoid fever and 200,000 related deaths are estimated to occur globally each year. Typhoid fever occurs in most of the developing world. Risk to travelers is extremely high in India, Bangladesh, and Nepal. Treatment is with antibiotics. Choice of antibiotics should be based on antimicrobial sensitivity data due to emerging antibiotic resistance, especially in South Asia. Two typhoid vaccines are available in the United States, each with an efficacy of 60-75 percent.




Friday, Sept. 26, 2008
Catalyst Online is published weekly, updated as needed and improved from time to time by the MUSC Office of Public Relations for the faculty, employees and students of the Medical University of South Carolina. Catalyst Online editor, Kim Draughn, can be reached at 792-4107 or by email, catalyst@musc.edu. Editorial copy can be submitted to Catalyst Online and to The Catalyst in print by fax, 792-6723, or by email to catalyst@musc.edu. To place an ad in The Catalyst hardcopy, call Island Publications at 849-1778, ext. 201.