University Press' services going digital

by Jonathan Ewart




Public Relations


The University Press has undergone some major changes since printing manager Jim Corr has come on board. Corr has helped reshaped the way the service is provided to MUSC.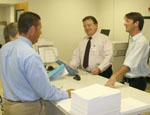 Jim Corr, center, discusses a printing order with Geoffrey Cormier, right, Teresa Hilton and Terry Bagan.



The University Press is an in-house printing operation that provides MUSC colleges, hospitals, departments, faculty, students and staff a creative approach to all of their printing needs—from the smallest black-and-white jobs to the largest full-color orders.

Two of the newest features the printing service is implementing are an electronic storefront and the e-Pace workflow system. The electronic storefront gives MUSC the ability to buy printing over the Internet.

"People can go online, do their own type-setting and proofing and place their orders," Corr said. "This is expected to be fully engaged and running by the end of 2008, which is a pillar goal for us."

The e-Pace system is an upgrade to the current workflow system. It will improve efficiency of order entry and the overall efficiency of the printing plant from the time an order is entered to when it is delivered.

"Sometimes change needs to be made to take an organization to the next level," said Corr, who has 30 years of experience in starting, fixing and running companies. "We are hopeful this will be a good fix for University Press."

The employees are happy with Corr's contributions, said Teresa Hilton, media resources consultant for University Press. "Jim not only has press experience but also has digital experience, which helps the employees advance their skills. Before he came, we did some digital work, but now it has really advanced," she added.

The main goal is to provide MUSC with exceptional reliability, short cycle times, competitive prices and the highest quality printing products and services available.

"Our turnaround times have changed," said Hilton. "We just want to assure everyone that things will get out on time."

"Although the printing presses are located in North Charleston, a 24-48 hour turnaround time for most projects is not uncommon," said Corr. "With two vans always operational, we can deliver a lot of product in a very short period of time."

The downtown location offers creative top-quality design work and superior customer service. Walk-in service for copying is also available at the 165 Cannon St. location.

University Press offers design work for an economical price, free pickup and delivery of orders, and free consultation for all printing needs. Because University Press is an in-house operation of a state-sponsored organization, it has certain cost efficiencies that makes its pricing very attractive.

Unlike outside vendors, which are more expensive and offer limited products and services, University Press can facilitate copy jobs as well as printing projects at a price to fit any department's budget.

University Press is currently located in the old Wachovia building next to the Energy Plant on Cannon Street. By January 2009, the department will move down the street to offices on the first floor of the Bee Street garage.

For information on printing services at MUSC, call 792-2591.



Friday, Sept. 26, 2008
Catalyst Online is published weekly, updated as needed and improved from time to time by the MUSC Office of Public Relations for the faculty, employees and students of the Medical University of South Carolina. Catalyst Online editor, Kim Draughn, can be reached at 792-4107 or by email, catalyst@musc.edu. Editorial copy can be submitted to Catalyst Online and to The Catalyst in print by fax, 792-6723, or by email to catalyst@musc.edu. To place an ad in The Catalyst hardcopy, call Island Publications at 849-1778, ext. 201.