College students plan for careers in research
by Alex Jackson




Public Relations


College students interested in a biomedical science career learned more about themselves and better defined their futures by participating in the Summer Undergraduate Research Program sponsored by MUSC's College of Graduate Studies.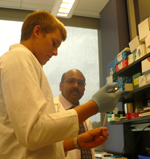 Dr. Sakamuri Reddy mentors a summer undergraduate student.



About 75 students from colleges and universities around the nation spent 10 weeks performing scientific experiments with MUSC faculty researchers. This program enables undergraduate students to build a foundation in the research field in preparation for post-graduate work.

Jeremy Blanchard, a senior at Lee University in Tennessee, performed research in bioastronautics science. Along with his mentor, Sakamuri Reddy, Ph.D., Department of Pediatrics, he studied bone diseases and the effects of weightlessness on astronauts' bones. Blanchard so enjoyed his experiences in the research program that he wants to enroll in the Medical Scientist Training Program (M.D./Ph.D.) program after college, he said.

Samir Panvelker, a junior at the University of South Carolina, studied bone disorders and analyzed bone growth with his mentor, Scott Argraves, Ph.D., professor, Department of Cell Biology and Anatomy.

As part of the MUSC research program, Blanchart, Panvelker and several other students went to the National Aeronautics and Space Administration (NASA) Kennedy Space Center in Cape Canaveral, Fla., and performed research in NASA labs. While there, students gained an understanding of the changes that occur in the human body at zero gravity, said Reddy.

Performing experiments and analyzing data were not the only lessons the young researchers learned. "It's important to be able to communicate effectively and have time management skills in the lab," said Emily Hollings, a senior at Grace University in Omaha, Neb.

Hollings teamed up with Jeevan Abraham, a junior at Wofford College, because both were interested in studying neuroscience. The goal of their research was to determine if drugs such as Lovastatin can decrease the number of amyloid plaques in patients with Alzheimer's disease. Their mentor was Kumar Sambamurti, Ph.D., a professor in the Department of Neurosciences.

During his senior year at the South Carolina Governor's School for Science and Mathematics, Abraham participated in MUSC's summer research program. After graduation, he plans to enroll in an M.D./Ph.D. program.

Hollings's grandparents were doctors, so she established an interest for science at an early age, and now plans to attend medical school. "I used to enjoy listening to their stories and experiences with patients and research," she said.

Like many of the students, Chisom Ezenekwe believes that research is a way of giving back to the community. A junior at Clemson University from Nigeria, Ezenekwe described conditions of her poverty-stricken homeland. "The health care system is poor and it's difficult to treat diseases like diabetes that are common in the United States," Ezenekwe said. "They are not able to treat these diseases because of a lack of research and knowledge."

This summer, Ezenekwe studied the stages of colon cancer and worked with Mike Wargovich, Ph.D., professor, Department of Pharmacology. They investigated a gene that may be turned off during early stages of colon cancer. Ezenekwe said she would like to pursue specialties in oncology and gynecology.

Sana Ali's love of children inspires her to become a pediatrician. The Columbia College sophomore also wants to attend MUSC, but wanted to get more experience in research. "I have wanted to enter the M.D./Ph.D. program, but I didn't have enough research experience," Ali said. "I also wanted to find out whether I even liked research."

She was surprised at what research would reveal. While studying with Yan Huang, M.D., Ph.D., Department of Medicine, Ali discovered that people with diabetes are more likely to have periodontal disease.

Boasting its highest enrollment since the program began in 1980, this summer's research program has been very successful, organizers said.

"The students were enthusiastic and the mentors enjoyed working with the students," said Perry Halushka, M.D., Ph.D., dean, College of Graduate Studies. "It feels great to see mentees go on to graduate school or medical school. The College of Graduate Studies is fulfilling its mission by increasing the number of graduate students performing research in biomedical sciences."



Friday, Sept. 5, 2008
Catalyst Online is published weekly, updated as needed and improved from time to time by the MUSC Office of Public Relations for the faculty, employees and students of the Medical University of South Carolina. Catalyst Online editor, Kim Draughn, can be reached at 792-4107 or by email, catalyst@musc.edu. Editorial copy can be submitted to Catalyst Online and to The Catalyst in print by fax, 792-6723, or by email to catalyst@musc.edu. To place an ad in The Catalyst hardcopy, call Island Publications at 849-1778, ext. 201.