Meet...Joshua
Name:

Joshua Swearingen.
School:

College of Graduate Studies.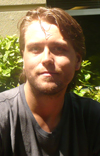 Hometown: Baltimore.
What attracted you to MUSC:

Charleston is a great city and there is a lot of research going on at MUSC.
What did you want to be when you were younger:

An artist.
Hobbies:

I like to read and write.
Unforgettable moment:

Visiting Sequoia National Forest in California.
Last book read:

"The Alchemist" by Paulo Coelho.
Item you must have in your refrigerator:

White wine.
Something important life has taught you:

The best way usually requires the least force.
Favorite Charleston restaurant:

Basil/Chai/Meritage.
Something people don't know about me:

Before I went into science, I worked in information technology and taught part-time at a community college.
Friday, Sept. 5, 2008
Catalyst Online is published weekly, updated as needed and improved from time to time by the MUSC Office of Public Relations for the faculty, employees and students of the Medical University of South Carolina. Catalyst Online editor, Kim Draughn, can be reached at 792-4107 or by email, catalyst@musc.edu. Editorial copy can be submitted to Catalyst Online and to The Catalyst in print by fax, 792-6723, or by email to catalyst@musc.edu. To place an ad in The Catalyst hardcopy, call Island Publications at 849-1778, ext. 201.