Program teaches about health care careers
by Jonathan Ewart




Public Relations


While a conventional summer for many local teenagers may include sleeping late, going to the beach or the occasional part-time job, seven students from St. John's High School were able to experience something different because of the Teen Health Scholars Program. As part of the College of Nursing Hispanic Health Initiative, this 10-week summer program was designed to provide leadership development and exposure to health careers for minority high school students.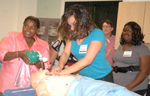 Teen Health Scholar students JeRai Green, left, and Princess Acosta use their newly learned CPR skills to revive a simulation mannequin.



Led by pediatric nurse practitioner Tiffany H. Williams, and assisted by Melissa J. Cox, both of CON, this summer's all-female group engaged in workshops related to goal setting, resume building, adolescent health, and college application skills. The American Heart Association also offered CPR, first aid and babysitting certification during a day-long training session.

"Our work on Johns Island grew out of partnerships with local organizations to improve health services to teens," said Deborah C. Williamson, R.N., DHA, associate dean. "These partnerships led to the brainstorm that created the framework and secured the funding for the summer program."

The program was made possible by $8,000 in funding provided by the New Morning Foundation and dispensed to CON by Communities in Schools.

The seven students participated in health literacy training provided by MUSC's Hands on Health-SC where they learned to identify and navigate credible health Web sites to conduct research on health topics. The scholars included one junior, four seniors, and two recent graduates now enrolled at Trident Technical College. They became engaged in their own community, deciding on health topics they felt were most pertinent to their peers—teenage pregnancy, teen dating violence and sexually transmitted diseases.

Using the skills learned in their health literacy training, the scholars conducted research on the three topics and developed both a PowerPoint presentation and brochures for their peers. They presented their work at a community reception on Aug. 13 to an audience of family, friends, teachers and community members.

Williams, who led the program, recalls that the students were not the only ones taking notes. "I learned as much from the students as they learned from me," she said. "Adolescents are a wonderful group to work with. They have amazing ideas and the ability to influence their peers when armed with accurate and informative information."

The last week of the summer program was especially busy for this select group of students. Aug. 6 was their interactive day at MUSC when they shadowed health professionals, met with recruiters from the various colleges, toured the Cell Biology Labs, and visited the Simulation Lab. They were able to put some of their new skills to the test, working together to revive a training mannequin from cardiac arrest during a CPR simulation.

"They succeeded in doing so, which was very exciting since they had just learned the CPR skills," said Cox, program coordinator for CON.

The success of this first-year program was due in large part to the "motivated, creative and engaged students," as well as through support from community partners including Communities in Schools, St. John's High School and the John's Island Regional Library, Cox said. Although this was the first year for this particular program, it served as a pilot program for an expanded version that will be implemented during the 2008-2009 school year at St. John's High School.


Friday, Sept. 5, 2008
Catalyst Online is published weekly, updated as needed and improved from time to time by the MUSC Office of Public Relations for the faculty, employees and students of the Medical University of South Carolina. Catalyst Online editor, Kim Draughn, can be reached at 792-4107 or by email, catalyst@musc.edu. Editorial copy can be submitted to Catalyst Online and to The Catalyst in print by fax, 792-6723, or by email to catalyst@musc.edu. To place an ad in The Catalyst hardcopy, call Island Publications at 849-1778, ext. 201.