Name:

Dachelle Johnson.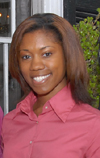 School:

Fourth year, College of Pharmacy.



Why did you move to Charleston:

My grandmother and I moved to Columbia when I was 12 and I came to Charleston after undergrad for pharmacy school.



What is the most rewarding aspect of your job:

Educating patients on the proper use of their medications. They are often very confused prior to consultation and thankful afterward.



Something you collect:

Do shoes count?



Bad habit:

Making assumptions.



Pet peeve:

That smacking noise you hear when people chew with their mouth open.



Person you admire the most:

My grandmother, Elaine Langhorn.



Biggest challenge:

A challenge that affects me in and outside of work is saying what's on my mind. It depends on the situation, but I tend to keep a lot of things to myself.



If you could relive any day of your life, when would it be:

Dec. 23, 1988. My last birthday with my mom.



Something people don't know about you:

When I was studying animal science at the University of Georgia-Athens, I helped artificially inseminate a horse.