Infertility: Not just a woman's problem

by Maggie Diebolt




Public Relations


Couples wanting to have a child, but who are struggling with infertility, may find answers to "why not" scenarios and solutions through infertility expert Harry Fisch, M.D.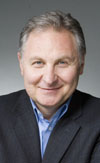 Dr. Harry Fisch



As the only male infertility specialist in South Carolina, Fisch brings new hope to couples throughout the state. Having successfully treated thousands of men with sexual and fertility problems through his New York practice, Fisch will be available to MUSC patients several days each month through MUSC's Department of Urology. Fisch began meeting with patients Jan. 29 in Mount Pleasant through the MUSC Male Infertility Program.

Infertility is a common condition affecting approximately 10 percent to 15 percent of couples. While most infertility problems have been blamed on women, male infertility actually is the cause of 40 percent of such cases, Fisch said.

Male infertility can be linked to sperm production, transportation through the male reproductive tract, and delivery into the female reproductive tract. Female infertility may be caused by a lack of ovulation, blocked fallopian tubes, or inability of an embryo to implant and establish pregnancy in the uterus. Most often, infertility is the result of a combination of several problems on both the male and female sides, Fisch explained.

As one of the nation's leaders in the diagnosis and treatment of men's health, male infertility and microsurgical vasectomy reversal, Fisch was attracted to the field of medicine through his love for problem solving. Now, he devotes himself to helping his patients improve their health and fertility. "Whatever the unique issues that a couple has, the end result of helping couples realize their dream of becoming parents is the most rewarding and gratifying job I can think of," Fisch said.

While he still will be based in New York, Fisch was attracted to expand practice in Charleston for several reasons: "Charleston is beautiful, pure and simple," he said. "But what's more amazing than the locale is that the people are warm, friendly and gracious. Throw in a world class medical center, fantastic doctors and staff—you can't top that," he added.

With expertise in reversing vasectomies, Fisch aims to establish a world-class fertility center for men in the Southeast. "Treating men to increase fertility can be the easiest approach for couples to achieve pregnancy," he said. "Through vasectomy reversals, many men will have the chance they deserve to restore their fertility."

Fisch is the author of two books on men's health and fertility, including "Size Matters: The Hard Facts about Male Sexuality that Every Woman Should Know," and "The Male Biological Clock: The Startling News About Aging, Sexuality, and Fertility in Men." Fisch's work has been cited in USA Today, The New York Times and The Washington Post. He has appeared on television's 60 Minutes, 20/20, CNN and Today, among other news programs. When he's not in Charleston, Fisch serves as director of the Male Reproductive Center, director of urologic microsurgery at Columbia University Medical Center of New York Presbyterian Hospital, and is professor of clinical urology at Columbia University.

In addition to treating patients experiencing impotence and infertility issues, experts within MUSC's Department of Urology offer consultation, diagnosis, and treatment for male and female patients of all ages who are experiencing such illnesses as prostate cancer, bladder cancer, adrenal cancer, kidney disease and stones, testicular cancer, female and pediatric urological conditions, urinary tract infections, incontinence and bladder dysfunction.

For information, visit http://www.harryfisch.com, http://www.usvasectomyreversal.com, or call (800) 375-0518. For more information on the Department of Urology visit http://www.muschealth.com/urology/.

Friday, Jan. 30, 2009

The Catalyst Online is published weekly by the MUSC Office of Public Relations for the faculty, employees and students of the Medical University of South Carolina. The Catalyst Online editor, Kim Draughn, can be reached at 792-4107 or by email, catalyst@musc.edu. Editorial copy can be submitted to The Catalyst Online and to The Catalyst in print by fax, 792-6723, or by email to catalyst@musc.edu. To place an ad in The Catalyst hardcopy, call Island Publications at 849-1778, ext. 201.