Kidney transplant program marks 40 years
by Mary Helen Yarborough




Public Relations


William "Billy" Ashley was a dying man until his sister saved him with the precious gift of one of her own kidneys.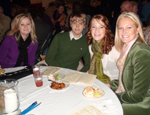 Children of Dr. Thomas Fitts, who performed the state's first kidney transplant at MUSC, were among honored guests during the program's 40th anniversary celebration Jan. 23 aboard the USS Yorktown.



That was more than 40 years ago as transplant surgeon Thomas Fitts, M.D., and a team of surgeons helped make medical history by carefully removing one of Velma Ashley McAlister's kidneys and placing it into her brother's body. The new kidney added a number of unexpected years to Ashley's life.

The father of MUSC's transplant program, Fitts died in 2008, but his family; along with surviving members of the Ashley family, including McAlister, were part of an unprecedented celebration Jan. 23 aboard the USS Yorktown.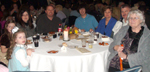 Members of the first kidney transplant recipient's family, Joyce Ashley Townes (Billy Ashley's widow), far right, gathered to celebrate life with 650 invited guests from across the Southeast.



More than 650 invited guests attended the event that featured a special video presentation by the Waring Library, which reflected upon the experiences of MUSC's early transplant program and practitioners; the patients, and McAlister, who attended the celebration.

Hundreds of people from across the Southeast came to share their stories and friendship with others whose lives were enriched by organ donation and transplantation. The MUSC program, made possible by medical frontiersmen and committed surgeons, nurses and transplant program workers, ranks among the nation's best.

Featured speakers included MUSC Transplant Center director Kim Phillips; transplant medical director Prabhakar Baliga, M.D.; MUSC surgeons and professors, P.R. Rajagopalan, M.D.; Francesca Egidi, M.D.; and Reuben Wright of Life Point.

Friday, Jan. 30, 2009

The Catalyst Online is published weekly by the MUSC Office of Public Relations for the faculty, employees and students of the Medical University of South Carolina. The Catalyst Online editor, Kim Draughn, can be reached at 792-4107 or by email, catalyst@musc.edu. Editorial copy can be submitted to The Catalyst Online and to The Catalyst in print by fax, 792-6723, or by email to catalyst@musc.edu. To place an ad in The Catalyst hardcopy, call Island Publications at 849-1778, ext. 201.