Southeast wordsmiths gather for workshop

by Mary Helen Yarborough




Public Relations


Their jobs are to assure clarity and accuracy of the written word. These copy editors and members of the American Copy Editors Society (ACES) Southeast chapter assembled for a daylong workshop at MUSC on Jan. 25 to discuss the future of newspapers, their lives outside of a struggling print medium, and what to expect in the evolving platform through which the public gets its news.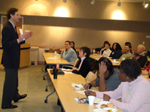 MUSC President Dr. Ray Greenberg provides a warm, informative welcome to the estimated 65 in attendance at the American Copy Editors Society Southeast chapter workshop Jan. 25.



On the cold, damp Sunday, MUSC President Ray Greenberg, M.D., Ph.D., provided a warm, informative welcome to the estimated 65 in attendance; many of whom traveled from Greenberg's earlier academic stomping grounds in Chapel Hill and Durham, N.C.

Prior to the gathering, teamwork by MUSC staff assured hospitable and comfortable accommodations.

Meanwhile, these detailed-oriented wordsmiths admired the peaceful, palatial tower and ART facilities. They included college professors, wire editors, reporters, bloggers, columnists and communications consultants from the Carolinas and Georgia.

Considered by some as the bane of writers' existence, copy editors also are blamed when errors are printed. But their numbers are shrinking along with the pages and ads in the paper; and they are looking for alternative careers.

Van King, former newspaper publisher-turned-dean of the Queens University Communications Department, assured the weary that copy mastery also is needed in the business world, so there's life after print media. MUSC's media relations director Heather Woolwine explained how institutional public relations can supplement the flow of information from overworked reporters, citing the abundance of solid health stories coming out of MUSC each week. Vicky Agnew, Hollings Cancer Center strategic communications director, explained the process and her experience of finding a niche in the field of media and institutional communications.

Ian Bryant, a graphic artist for the Post and Courier, discussed the multi-media direction that newspapers are taking to evolve and compete with TV and the Internet. And blogger Wendy Parker, a former reporter for the Atlanta Journal-Constitution, expressed a mix of fear and hope about her future in a still-new medium. She also reported on the industrious, recently-unemployed journalists in Georgia who have formed a new wire service covering state news.

At the end of the day, most from the conference concurred that while staying afloat has grown especially tough during terrible economic times, the fourth estate, with the help of qualified copy editors, will continue to help document history for readers of news sent to laptops, handheld devices or on the doorsteps of America for years to come.



A thank you to the following for helping with the workshop: Darlene Gaffney, program assistant for MUHA Heart and Vascular Clinical Outcomes and Quality. Sharlene Atkins, office administration in the Office of Public Relations. Crystal Youngblood and Danny Williams of Security and Security worked with Nate Williams of Facilities Maintenance. Lorraine Rivers, Ashley River Tower cafeteria supervisor.



Friday, Jan. 30, 2009

The Catalyst Online is published weekly by the MUSC Office of Public Relations for the faculty, employees and students of the Medical University of South Carolina. The Catalyst Online editor, Kim Draughn, can be reached at 792-4107 or by email, catalyst@musc.edu. Editorial copy can be submitted to The Catalyst Online and to The Catalyst in print by fax, 792-6723, or by email to catalyst@musc.edu. To place an ad in The Catalyst hardcopy, call Island Publications at 849-1778, ext. 201.