The University's Finance & Administration Division celebrated its monthly Employee Appreciation Event Dec. 17. The event recognized staff from the Engineering & Facilities, Finance, and Operations departments who were nominated for their commitment to MUSC Excellence.

Every month employees with qualifying nominations from the preceding month will be recognized at the monthly Employee Appreciation Event with an MUSC Excellence gift. Employee(s) of the Quarter will be selected by the RRC from the eligible nominations received during the quarterly period. The Employee(s) of the Quarter winners will be announced at the Employee Appreciation Event held the month following the relevant quarter.

Employee of the Quarter nominees for November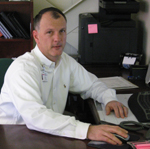 Gary Covington
Gary Covington, Engineering & Facilities; Robert Rentz, Grants & Contracts Accounting; and Ping Yan, Grants & Contracts Accounting.

Nominees received a personal invitation to attend the monthly event and again for the event when the quarterly winners will be announced.

The winners for the 2008 Employee of the Second (fiscal) Quarter will be selected by the RRC from the eligible nominations received for October, November and December and will be announced at the Jan. 21 Employee Appreciation Event. All are welcome.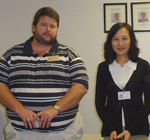 Robert Rentz and Ping Yan

PEER Milestone recipients for November
Kristin Carstarphen, Occupational Safety & Health; William Cochran III, Engineering & Facilities; Wanda Connor, Business Services/University Transportation Services; Gloria Rivera, Purchasing Services; and Carl Southard, Purchasing Services.

The PEER Postcard is an employee thank you card used to recognize fellow F&A co-workers observed practicing standards of behaviors consistent with MUSC Excellence in the areas of service, finance, people, quality, and growth.

For information, contact one of the RRC committee members listed below or visit http://academicdepartments.musc.edu/vpfa/excellence/index.htm.
For RRC information, contact any of the following
Joyce Oltmann
RRC coordinator, Chief Operations Office
701-B Harborview Office Tower
792-0888, oltmannj@musc.edu

Monique Robinson
PEER coordinator, Human Resources Management
105-H Harborview Office Tower
792-7225, robinsmo@musc.edu

Anthony Dunbar
RRC chair, Public Safety
792-6879, bunbara@musc.edu

Mellie Klinger
RRC co-chair, Accounts Payable
792-3219, klingerm@musc.edu

You may also contact other RRC members: Tina Chapman, chapmant@musc.edu; Mitzi Fetner, fetnerm@musc.edu; Gale O'Neal, onealk@musc.edu; Andrew Nelson, nelsoa@musc.edu; and Joseph Avant, avantj@musc.edu.

Friday, Jan. 9, 2009