When Amy Kosar brought her daughter to Trident United Way's Countdown to Kindergarten kickoff she thought she would pick up some materials, find out school requirements and get a list of important dates.

Instead, she ensured Carson's success in school.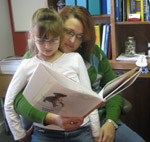 Amy Kosar reads with daughter Carson.

That's because an eye exam at the site determined that Carson had a vision problem. "Once she got the glasses her ability to read took off," Kosar said.

Countdown to Kindergarten is a TUW program designed to get children and parents ready to start school and prosper there. It encourages parents and children to read, count, and play together.

Now in first grade, Carson "reads like a champ," Kosar said. "We're fortunate that we caught it when we did or the doctor said she could have developed a lazy eye."

To make a donation online to Trident United Way, visit
https://donor.united-e-way.org?campaign=2009MUSC or call Peggy Hotchkiss at 792-1973.






Friday, Oct. 23, 2009