The university's Finance & Administration Division celebrated its monthly Employee Appreciation Event Sept. 16 to recognize staff from the Engineering & Facilities, Finance, and Operations departments who were nominated for their commitment to MUSC Excellence. Each month employees with qualifying nominations for the Employee Recognition Program (ERP) during the preceding month are recognized at the monthly event with an MUSC Excellence gift. Employees of the Quarter are selected by the Rewards & Recognition Committee (RRC) from the eligible nominations received during the quarterly period. The nominations exhibit outstanding work-related behavior or activities relating to the five pillars of Excellence (people, service, quality, finance, and growth).

Employees of the Quarter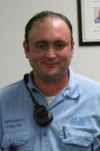 David Alan Jackson

David Alan Jackson, Engineering & Facilities Boiler Room; Geraland Thompson, Controller's Office/Payroll Services; Emily Mills, Controller's Office/Payroll Services; and Linda Mitchell, Controller's Office/Payroll Services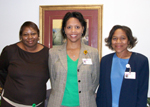 Nominees for Employee of the Quarter are Geraland Thompson, from left, Linda Mitchell and Emily Mills.

Each nominee received a personal invitation to attend the monthly event and will be invited to the event at which the (first) quarterly winners will be announced. The winners for the 2010 Employee of the First (fiscal) Quarter will be selected by RRC from the eligible nominations received for July, August, and September and will be announced at the Oct. 21 Employee Appreciation Event.

PEER Milestone Awards
The PEER Postcard is an employee thank you card used to recognize fellow F&A coworkers observed practicing standards of behaviors consistent with MUSC Excellence in the areas of service, finance, people, quality, and growth.

The following F&A staff members received PEER Milestone awards for August: Lisa Beattie, Human Resources Management Benefits Office, and LaDeidra Berry, Human Resources Management Benefits Office.

For information, contact Joyce Oltmann, RRC coordinator, oltmannj@musc.edu; Monique C. Robinson, PEER coordinator, robinsmo@musc.edu; Mellie Klinger, RRC chair, klingerm@musc.edu; and Anthony Dunbar, RRC co-chair, dunbara@musc.edu. Other RRC members are Joseph Avant, avantj@musc.edu; Alethea Smalls, smallssa@musc.edu; Jackie Boltin, boltinjc@musc.edu; Robert Branson, bransonr@musc.edu; Felicia Curry, curryf@musc.edu; Mitzi Fetner, fetnerm@musc.edu; Mike Schultz, schultmh@musc.edu; and Gloria Webb, riverag@musc.edu.




Friday, Oct. 2, 2009