Division of Education and Student Life recognized the fourth quarter service award winners and the Employee of the Year at the division's recent all-staff meeting.

As part of the divisionwide commitment to MUSC Excellence, Education and Student Life initiated an Employee Recognition Program at the beginning of the 2008-2009 academic year. Staff and employees from throughout the MUSC community could nominate employees for consideration each quarter. A peer committee evaluated the accomplishments of the nominees each quarter and also considered a single individual for recognition as Employee of the Year.

Janis Newton, MUSC Wellness Center, was recognized for her outstanding contributions as the Division of Education and Student Life's Employee of the Year.

In the fourth quarter, Kyle Connelly, Educational Technology Services, Alicia Lockard, Student Programs, Dorothea Gadsden, Student Programs, Martha Lipton, MUSC Wellness Center, and Sandra Morris, Enrollment Management, were recognized.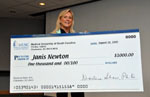 Janis Newton was selected as Education and Student Life's Employee of the Year.

In addition to recognition by her peers at the quarterly meeting, Newton received a $1,000 check presented by Darlene Shaw, Ph.D., associate provost for education and student life.

Newton has championed highly effective and financially successful programs at the Harper Student Wellness Center, including four sessions of the MUSC Healthy Charleston Challenge, Tae-bo and Boot Camp. She has organized events and programs that highlight a variety of sports and exercise interests, including racquetball and squash, triathlon and running. She personally provided nutritional education and inspired healthy eating habits to more than 400 children in the Low country attending the MUSC Kids Camp this past year. She also is directly involved with the Junior Doctors of Health Program helping to bring fitness awareness to downtown elementary schools. Newton's selfless drive to help and inspire others, while promoting physical fitness through the Wellness Center, continues to have a lasting impact around the Tri-county community.





Friday, Oct. 2, 2009