MUSC's Hollings Cancer Center (HCC) has received accreditation from the National Accreditation Program for Breast Centers (NAPBC).

HCC's Comprehensive Breast Care Program is the only Lowcountry breast center to hold NAPBC status.

NAPBC recognition, administered by the American College of Surgeons, is a three-year accreditation given only to centers that have voluntarily committed to provide the best in breast cancer diagnosis and treatment and are able to comply with established NAPBC standards. Each center must undergo a rigorous evaluation and review of its performance and compliance with the NAPBC standards.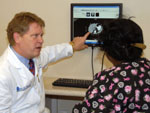 Hematology/Oncology's Dr. Neal Christiansen shows a follow-up CT scan to a patient who is responding to chemotherapy with improvement in liver metastases. Christiansen is part of the Comprehensive Breast Care Program team.

"NAPBC accreditation sends a clear message that we will continue raising the bar for ourselves and settle for nothing less than the best in caring for cancer patients," said Andrew S. Kraft, M.D., HCC director. "We are proud of this accreditation, and we are proud of the team that earns it everyday."

Megan Baker, M.D., a breast surgeon and director of the Comprehensive Breast Care Program at HCC, said patients fare best under a team-based multidisciplinary care model.

"This accreditation validates the wonderful and compassionate commitment the members of the Hollings comprehensive breast care team have made to our patients. We are thrilled and energized to continue in our efforts to improve in the diagnosis, treatment and prevention of breast cancer for the women of South Carolina," she said.

The American Cancer Society (ACS) estimated that there would be 184,450 patients diagnosed with invasive breast cancer in the United States in 2008. In addition, hundreds of thousands of women who will deal with benign breast disease this year will require medical evaluation for treatment options.

Receiving care at a NAPBC-accredited center ensures that a patient will have access to:

As the state's only National Cancer Institute-designated cancer center, Hollings offers comprehensive breast care in a multidisciplinary setting. The HCC's team and services include: medical, surgical, and radiation oncologists, radiologists, pathologists, plastic surgeons, nurses, physical therapists, clinical trials, genetic counseling, psychological support, and nutrition education.

For additional information on HCC, visit http://www.hcc.musc.edu.




Friday, Oct. 30, 2009