Now physician assistants (PAs) and nurse practitioners (NPs) will have a joint opportunity to attend quarterly Continuing Medical Education Grand Rounds at MUSC starting in mid-October.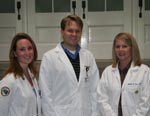 Founders of the first mid-level grand rounds are Megan Fulton, from left, Reamer Bushardt and Martha Green.

Reamer Bushardt, PharmD, MUSC PA Program director, and Megan Fulton, PA-Certified, lead PA, MUSC Trauma Team, and Martha Green, PA-Certified, PA program instructor, have come together to create the first, Mid-Level Grand Rounds starting Oct. 16.

Lecturers for the first Grand Rounds, "Best Practices for Pain Management: Inpatient to Outpatient," include MUSC's Pain and Palliative Care Team's Karanne Campbell, Tamara Bowman and Paul Rousseau, M.D. The growing number of PA-and NP-practicing faculty are vital providers in patient care, communication, and satisfaction.

"Karanne and Tamara consistently offer alternatives and options for our trauma patients when controlling the patient's pain level," said Fulton. "This was the spark that led to big plans for the mid-levels in identifying educational opportunities, thus creating the first grand rounds. PAs and NPs alike are able to identify problems and offer solutions among nurses and physicians. They are the binding glue for a successful team."

"This event marks the first of many collaborative efforts on campus," said Green.

National PA week is Oct. 6-12
National PA Week is an opportunity for the community to better understand the value of PAs. Without PAs, providers in hospitals, private practice, nursing homes, correctional institutions and many other health care settings would simply be overrun. Studies have conservatively estimated that PAs can provide 80 percent or more of the services provided by physicians—at the same level of quality.

CME Symposium & Quarterly Mid-Level Grand Rounds
"Best Practices for Pain Management: Inpatient to Outpatient"
10:50 a.m. to 2 p.m., Friday, Oct. 16, College of Health Professions Atrium

10:50 a.m.: Welcome—Marilyn Schaffner, Ph.D., R.N., and Reamer Bushardt, PharmD, PA-C
11 a.m. to noon: Session I—Karanne Campbell, "Pain Mechanisms and Pathophysiology"
Noon to 1 p.m.: Session II with lunch provided— Tamara Bowman, "Opioid Dose Conversions"
1 to 2 p.m.: Session III—Paul C. Rousseau, M.D. "Practical Management—The End, or Just the Beginning"

Three ontact hours, category I AAPA accreditation pending. AAPA is acceptable for S.C. licensed PA and NP providers.

Complimentary to MUSC PAs and NPs. $50 for non-MUSC participants. Everyone must RSVP. Sign-in : CHP Atrium at 10:30 a.m.

For reservations and information, call 792-1913, e-mail simmshe@musc.edu or visit its Web site at http://www.musc.edu/chp/pa/CME/cmesymposium.htm.

CME collaboration for physician assistants and advanced practice nurses.



Friday, Oct. 9, 2009