by Cindy Abole
Public Relations
Charles S. Greenberg, M.D., has devoted his career to developing programs that improve the lives of patients through his work as both a basic scientist and clinician. For more than 25 years, he's focused on helping patients diagnosed with complications from bleeding problems, blood clots, and other blood diseases. In March, Greenberg joined MUSC as a professor of medicine in the Division of Hematology and Oncology and is working to establish a new Center for Thrombosis and Hemostasis.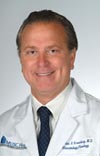 Dr. Charles Greenberg

Prior to coming to the Lowcountry, Greenberg led a stellar career at Duke University Medical Center and established its coagulation lab and program, directed the thrombosis research program and served as scientific director with the Duke Sickle Cell Center. In each of his roles, he's led and motivated others to establish successful programs. This motivation led him to a move to MUSC to strengthen translational research and build programs in thrombosis and hemostasis.

"I truly enjoy this work," said Greenberg, a native of Philadelphia. "It's been a wonderful experience working as a hematologist and scientist helping patients with blood disorders. I'm at a stage in my career where I want to do more and not less and it led me to MUSC. I was seeking a new challenge that would allow me to build a clinical research program that could bring new drugs and treatments for bleeding and thrombotic disorders and ultimately, improve patient's lives."

Greenberg is excited about three things at MUSC: First, is the opportunity to establish a Center for Thrombosis and Hemostasis and helping South Carolinians throughout the state. Greenberg, as well as hospital leadership, is optimistic about meeting the needs in this specialty care area. He hopes to bring improvements in new drug therapies for clinical care of all rare bleeding and blood clotting conditions.

"Blood clots can occur in any organ of the body. With the establishment of a new thrombosis and hemostasis consult service, we'll have the ability to treat all medical and surgical patients," Greenberg said.

Secondly, he is encouraged by strong leadership in the institution's clinical and research missions. He's previously worked with John Raymond, M.D., vice president for academic affairs and provost; Jerry Reves, M.D., vice president and dean, College of Medicine; and Yusuf Hannun, M.D., Ralph F. Hirschmann Professor and Chair, Department of Biochemistry and Molecular Biology, all Duke transplants who came to MUSC.

"They've given me the confidence and faith that MUSC will support my career goals," Greenberg said.

Thirdly, he admires how MUSC supports basic science and translational research. Greenberg's research is dedicated to the long-term study of a blood protein that plays an important role in neurodegeration as in Alzheimer's and Huntington's diseases, tumor growth and chemotherapy resistance, and desires to ensure that his work can be translated to drug development. Strong basic science support will help make it more feasible to make advances in research. "It's great when you can work with colleagues who take an interest in your research and collaborate with you. MUSC's size and collegial nature of researchers and support staff makes it easy for researchers to do their work and work with others who are just as supportive and enthusiastic. It's a great environment to conduct basic and clinical research," Greenberg said.

Within the Department of Medicine, he hopes to collaborate with others and combine his research knowledge of blood coagulation and proteins to create drugs that can prevent diseases that cause fibrosis in the body's tissues such as diabetes, pulmonary fibrosis, etc. Greenberg's work will be made possible via MUSC's newest construction project, the six-story Drug Discovery Building. The facility will house chemical and structural biology laboratories and biotech start-up space for companies. Next door, the Bioengineering Building will host facilities for tissue engineering, device development and genomic technologies research.

Clinically, he's interested in improving hospital patient safety by introducing newer, effective therapies and is collaborating with Patrick J. Cawley, M.D., MUSC hospital executive medical director, and the medical center's anti-coagulation management committee.

"This group has done an amazing job providing a safer, quality assured program to treat patients with heparin, coumadin and other advanced anticoagulants," said Greenberg, who has an interest in preventing and treating complications from heparin therapy.

He's also anxious to work closely with medical students, residents and hematology fellows through his hematology consult service, medicine grand rounds and other opportunities.

Greenberg received his medical degree from Hahnemann Medical College (now Drexel University School of Medicine) in Philadelphia in 1976. He completed his internship and residency at the University of Minnesota followed by a three-year hematology/oncology fellowship at the University of California at San Francisco and an American Heart Association Fellowship. In 1983, he was named as director of Duke University Medical Center's Coagulation Program and Laboratory and went on to assume numerous roles until 2009. He holds memberships in the American Association of Physicians, American Society of Hematology, American Society of Clinical Research, and the Thrombosis Council of the American Heart Association. A published author of more than 120 journal articles and book chapters, Greenberg has been an active peer reviewer of several medical journals, the National Institutes of Health, American Heart Association and holds several patents derived from his research.




Friday, Oct. 9, 2009