The Interprofessional Service Learning Project (ISLP), brings together students from multiple colleges and programs (i.e., medicine, pharmacy, physician assistant, health administration, nutritional sciences) to work together as an interprofessional education team in a community health project focusing on youth obesity.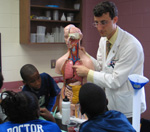 MUSC College of Medicine student and MUSC Junior Doctors of Health participant Stephen Finley discusses human body functions with students of Mitchell Elementary. When Hughes spoke with the children, one of the main topics involved Halloween candy and what happens to the body when too much is eaten.

Funded by The Duke Endowment and a partner with MUSC's Junior Doctors of Health (JDOH) Program, ISLP works with students at Mitchell Elementary school on the Charleston peninsula as well as students at other school and community sites across the state.

ISLP's goal is to provide health professions students with collaborative, interprofessional learning experiences designed to increase their knowledge and skills in the areas of health promotion and disease prevention.

Students learn to apply team skills during community service experiences and acquire knowledge of other professions through didactic sessions and teamwork while on rotations facilitated by the South Carolina Area Health Education Consortium system.

Using the JDOH curriculum, ISLP participants measure the health status of elementary school students by having the students record their fruit and vegetable intake and physical activity (pedometer steps). The elementary students become Junior Doctors of Health, empowered to take control of their own health and to educate others on the importance of healthy eating and exercise. Students learn about a variety of health professions from the diverse group of ISLP participants and are encouraged to pursue future career choices in health care. In addition to teaching, ISLP participants record their own eating and physical activity habits, demonstrating the importance of role modeling in increasing awareness of health behaviors.

For example, a fifth grade class at Mitchell Elementary recently rotated through three learning stations the day before Halloween: Healthy Snack and Food and Exercise Log, JDOH Review Booklet and the Human Body Model. Winners were also announced for the students who recorded eating the most vegetables and logging the most steps with their pedometers. Students received a certificate recognizing them as a Junior Doctor of Health and encouraged them to share the knowledge with friends, family and communities.

As a result of participation in ISLP, health professions students are able to:

ISLP rotations are offered throughout the academic year in all four South Carolina AHEC regions of the state—in elementary schools, local hospitals and community centers.




Friday, Nov. 13, 2009