by Cindy Abole
Public Relations
2003 Nobel Prize laureate Peter Agre, M.D., met with medical and research students Nov. 6 as part of the 2009 Perry V. Halushka MUSC Student Research Day. Agre told participants how America and the scientific community needs more bright, creative and fearless young people and that the true joy in research requires taking risks, some dumb luck and the ability to try different things.

Agre gave the keynote speech, "A Life of Science," where he spoke about his life journey in science leading up to his professional success in receiving the Nobel Prize for Chemistry about six years ago. Agre was recognized for his landmark discovery of aquaporins, the channels in cells that control water molecule transport via cell membranes.

A protein chemist and cell biologist, Agre said researchers and scientists have a responsibility to share their work and research progress with American taxpayers. Although he continues with his research, his immediate role is to promote the value of science and research in America. Earlier in February, Agre was inducted as the 163rd president of the American Association for the Advancement of Science, the country's largest scientific organization.

"I consider this a wonderful opportunity to meet students and contribute experiences that I can share and to encourage these young researchers in their work, ideas and efforts," said Agre. "At the same time, I'm also a learner who's interested in gathering any takeaway thoughts from this campus and special opportunity. I feel it's important for laureates to share of themselves with the scientific community and students in particular. This is a part of their legacy and it is a privilege for me to take part in this."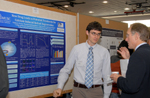 2003 Nobel Prize laureate Dr. Peter Agre discusses Nathan Perron's poster, "New Drug Leads as Potential Treatments for Calcium-Induced Retinal Degeneration."

At midday, Agre had lunch and an informal talk with 10 graduate studies students in the Basic Science Building. Attending were Camine Gentile, Sarah Brice, Marisa Meyers, Matthew Pave, Hsin-I Hung, Jacob Beckley, Peter Tang, Arelis Salas, Thomas Mullen and Danielle Guiterrez.

"Dr. Agre was very nice, down to earth and approachable," said Marisa Meyers, a fourth-year doctoral student. "He told great stories and anecdotes on science, research and his own journey through life and even shared mistakes he made along the way." Agre took some time to speak and get to know a little about each student at the luncheon. He asked each student to talk a little about their research, plus education and science backgrounds. Overall, he was positive and shared suggestions and feedback on how and why their research is important and encouraged them to keep pushing it forward.

Earlier, Agre attended the Student Research Day Poster Session, met with faculty and scientists including Janardan Pandey, Ph.D., professor of microbiology and immunology; Robert Stuart, M.D., professor of medicine, Division of Hematology/Oncology, Hollings Cancer Center; Yusuf Hannun, M.D., Ralph Hirschmann Professor and Chair, Department of Biochemistry and Molecular Biology; and Perry Halushka, M.D., Ph.D., College of Graduate Studies dean.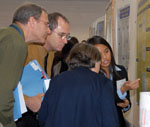 First place winner in the Clin/Prof/Masters II Poster category Rebecca G. Lopez presents her case to judges during the Nov. 6 Student Research Day.

"Dr. Agre's current research interests are focused toward the application of his Nobel Prize-winning discoveries to reveal new avenues for prevention or treatment of malaria," said Janardan P. Pandey, Ph.D., professor of microbiology and immunology, who briefly met with Agre to talk about his research on malaria and other related topics.

Agre holds two patents on his Nobel Prize winning work on isolation, cloning and expression of aquaporins. He is a professor , Department of Biological Chemistry at the John's Hopkins School of Medicine and Bloomberg School of Public Health. In 2007, he was named director of Johns Hopkins Malaria Research Institute and served as vice chancellor for Science and Technology at Duke University Medical Center. He also is a member of the National Academy of Sciences and American Academy of Arts and Sciences.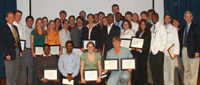 Dr. Peter Agre, far left, and Dr. Perry Halushka, far right, congratulate the winners of the 2009 Student Research Day.

Student Research Day 1st Place Winners
Undergraduate I Poster: Alexandria C. Bahan
Clin/Prof/Masters I Poster: Laura R. French
Clin/Prof/Masters II Poster: Rebecca G. Lopez
Clin/Prof/Masters III Poster: Emily C. Hendrix
Clin/Prof/Masters IV Poster: Nathen D. Head
PhD I Poster: Jacob T. Beckley
PhD II Poster: Marisa A. Meyers
PhD III Poster: (Kinard Gadsden Award): Nathanael D. Pruett
Postdocs/Residents/Fellows I Poster: Santhosh K. Mani
Postdocs/Residents/Fellows II Poster: Jennifer Schepp-Berglind
Undergraduates III Oral: Giffin Daughtridge
Clin/Prof/Masters V Oral: Simon Lehtinen
Clin/Prof/Masters VI Oral: Juliana Head
PhD VI Oral: Kyle Strickland
PhD VII Oral (Eric James Award): Tiffany Baker
PhD VIII Oral (William & Betty Peterson Award): DeAnna A. Baker
Postdocs/Residents/Fellows III Oral: Andrew W. Hunter
Ralph H Johnson VA Medical Center Poster: Emmanuel Reyes-Cortes
Ralph H Johnson VA Medical Center Oral: Brendan O'Connell
Sigma Xi Charleston Chapter Research Award Poster: Yuvaraj Sambandam
Sigma Xi Charleston Chapter Research Award Oral: Gayla Poling
Interprofessional Collaboration Research: Christopher Carter and Paul Goforth
Health Disparities Award: Bridget A. Peters



Friday, Nov. 20, 2009