by George Spain
Information Services
What do the Statue of Liberty and MUSC webmasters have in common?

OK, so it's a stretch, but Lady Liberty and the webmaster team do have a few things in common. They both welcome new arrivals, and they are usually the first contact visitors have with a vast and often confusing landscape.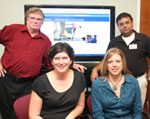 Webmasters are George Spain, from left, Kristi Adams, Kim Haynes
and Sujit Kar. Not pictured is Richard Gadsden.

Webmaster@someplace.com is the generic e-mailing address for contacting those who administer Web sites around the world. Webmaster@musc.edu is the address shared by a team from departments around the university and hospitals.

Their job: to answer each legitimate e-mail message or direct the message to a person who can answer the question or solve the problem. If it sounds like passing the buck, read on.

Legitimate? Because the address webmaster@ is generic; probably 85 percent of the messages to webmaster are pure, unadulterated spam. The address is a favorite target of the pranksters, gangsters and loonies who routinely fish the ether trying to hook the unwary. Among the remaining 15 percent, there are hundreds of messages that are the real deal.

Legitimate messages fall into a couple of general categories. The largest of the legitimate category are inquiries about attending the university (these come from every corner of the earth and in many different languages), requests for transcripts, verifications of employment, and other business-related items. A smaller group is composed of those who want to "share" their services and exchange links with us. While not technically spam, these amount to requests for endorsements and are routinely rejected to protect MUSC's Web integrity.

The next group is those who want to thank members of our hospital staff for the service they received. Some of these messages get very personal and touching.

"…Y'all began to successfully save my father … from dying after he suffered from a stroke. My family will be grateful to y'all forever."

"You saved my angel. Your staff [are] the kindest, most caring folks we have met…"

There's not a webmaster in the group that doesn't want to handle these e-mails, but the job generally falls to Kim Haynes, Web resources manager, because of her position with the muschealth.com, the business side of the enterprise.

"That's the one thing I really enjoy about being a webmaster—seeing some of the positive patient feedback that comes in. That and helping patients find what they are looking for is the best part. Since we don't have direct patient contact, this is how I get to know them," said Haynes.

Sujit Kar, who works with Haynes in muschealth.com, recalls this inspiring exchange:

"We got a webmaster e-mail a year or so ago from a nurse in Guatemala. She was working in a village and needed to identify some pills that didn't have packaging information. She was able to use our tools on www.muschealth.com to identify the drug from its markings. Her e-mail thanked us for providing an excellent tool and making it really easy to find what she was looking for quickly. "

"We are very proud of the fact that our tools help people from all over the world including those who work in more challenging circumstances," Kar said.

Kristi Adams, one of the most prolific contributors to webmaster communications, tells an anecdote that proves you just never know what chain reaction will be set in motion when you answer an e-mail sent to webmaster:

"A few years ago, there was a young patient in MUSC and her photo was featured on the front page of The Catalyst when some Disney-on-Ice characters visited the Children's Hospital. There was no article about her, just a photo. Both The Catalyst and the webmaster e-mail account became inundated with calls and e-mails about this girl and her condition.

"People from all over the state and other parts of the country were trying to find out how to help her. Apparently, her situation (before The Catalyst photo) had been posted in an e-mail chain that had circulated through churches and friends, then to a much wider audience. MUSC even had offers from organizations to pay for her medical bills."

"That's a substantial effort, and we were all happy to be a part of the solution for her family and help people get in touch with the family in order to support her," Adams noted.

The not-so rewarding missives
In addition to "good notes," of course, webmasters also field some complaints.

Here are a few samples of the milder ones:

"Your design does not include a city or zip code in the faculty directory. What a pain!"

Then there are messages from would-be students that are, well, hard to classify:

"I was wondering how I could get some information on freshman dorms at MUSC... are they co-ed, how late could your guy friend stay in your dorm at night…?"

"I have always wanted to be a doctor… my grades aren't too good since this is my first semester [in college] and I'm having problems adjusting… if I pull up my grades rest of the semesters, will medical schools understand that the reason I had problems first semester? I'm just really worried."

"I would like to go in your university to improve my English, it is possible?"

Finally, there's the easily classifiable and certifiable message from out there:

"You as a scientist bare the responsibility to save humanity, the code to infinity has been cracked and I am here to give you the data. Just remember, if you ignore this article, you should hold yourself responsible for all the deaths and misery humanity is going through right now." (sic)

Next time you have an occasion to contact a webmaster and some site, be sure to say kind things about these hard working people—especially after you chew them out for not being able to find what you are looking for.




Friday, Nov. 20, 2009