Diabetes is the body's inability to produce or effectively use insulin and is a major cause of health cocerns such as heart disease, kidney disease, blindness, sexual dysfunction and periodontal disease. More than 200 people in the United States and more than three in South Carolina die each day from diabetes. S.C. is tied with Mississippi for the highest rates of diabetes in African-Americans in the nation.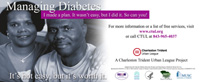 November is Diabetes Awareness Month, and the Racial and Ethnic Approach to Community Health (REACH) program is committed to reducing disparities for African-Americans, who have a higher risk of developing the disease, in Charleston and Georgetown counties.

The focus of REACH is to educate the community, provide solutions to help eliminate barriers, work with partners to develop policy changes related to diabetes prevention, and control associated hypertension, stroke and amputation risk factors in African-Americans.

Current REACH awareness campaigns include bus placards and Take Control Sunday, which launched this month and will reach thousands of people in Charleston County.

Type 2 diabetes, which is the most common type, can be prevented or delayed by the following:

Eating a healthy diet high in vegetables, fruits and whole grains, while avoiding fried foods, fatty meats, salt and sugar (eating sugar does not cause diabetes).
To better manage diabetes:

Get at least 30 minutes of physical activity on most days. Ask your health care provider if there are certain types of physical activity that you should not do, start slowly and increase your activity a little bit each day.
Remember to control your diabetes ABCs—A1C or average glucose (7 percent or below), blood pressure (less than 130/80), and cholesterol or blood fats (LDL cholesterol less than 100) are the usual goals for a person with diabetes. Ask your health care provider what numbers are best for you.
REACH offers free diabetes classes in largely African-American communities throughout Charleston County to prevent, delay or manage diabetes. For more information on bringing a class to your community or to enroll in a class currently offered, contact the College of Nursing at 792-5872.

Friday, Nov. 27, 2009