by Cindy Abole
Public Relations
Results from MUSC Faculty Senate's elections resulted in the election of a body comprising 59 members and 26 alternates, and new leadership under the guidance of Christopher Davies, Ph.D., president; Mary Mauldin, Ed.D. vice president; and Sharon Bond, Ph.D., secretary.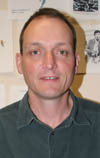 Dr. Christopher Davies

Davies, an associate professor in the Department of Biochemistry and Molecular Biology and director of MUSC's Center for Structural Biology, presided over his first senate meeting Nov. 10 at Gazes Auditorium. In the next 12 months, Davies will work with the faculty senate, its officers, as well as the group's executive and subcommittees, to address and resolve issues and continue to guide the organization toward its mission and goals.

Tops on Davies' agenda is to work with the administration on the issue of harmonizing faculty contracts, to increase the visibility of the senate through monthly updates, reports and other campuswide publicity, and to ensure that the interests of the faculty are represented when the institution addresses important issues such as conflict of interest and strategic planning.

"We have just completed a busy and challenging year and the importance of the faculty senate has never been clearer," said Davies. "I look forward to working with the administration to help the institution meet the challenge of maintaining its excellence in the face of budgetary pressures forced by cuts in state funding."

Davies came to MUSC in February 2001 from Duke University and previously at St. Jude Children's Research Hospital. Davies was recognized by his peers by receiving the 2003 MUSC Developing Scholar Award for his efforts in establishing a structural biology laboratory and advancing crystallography research on campus.

Mauldin, an associate professor in MUSC Library and director for the Center for Academic Research and Computing, has been active in faculty senate activities and numerous leadership roles. She contributes to academic, educational and research efforts throughout the institution. Bond has been involved in senate activities and is an assistant professor with the Nurse Midwifery Clinic in the College of Nursing.

MUSC faculty and staff also elected 25 new senators to two-year terms and 26 new alternates to one-year term limits. The senate represents faculty and their views, needs and interests of all faculty representing educational, research and service programs at MUSC.

Visit http://www.musc.edu/facsen/.


Friday, Dec. 11, 2009