by Cindy Abole
Public Relations
MUSC's Sigma Chi Chapter of the Psi Omega Dental Fraternity was honored for their contributions to community service and volunteer excellence. The group received two awards, the Psi Omega National Dental Fraternity's Community Service award for Province 4 (region) and the 2009 National Psi Omega's 2009 National Founders Award for Community Service. The award was presented recently at Psi Omega Fraternity's national council meeting in Atlanta.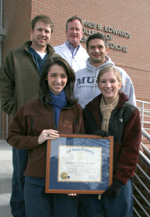 MUSC Chapter of the Psi Omega-Sigma Dental Fraternity Elizabeth Fulmer, bottom left, secretary; Byron Guffee, president, top left; Dr. Rick Albenesius, faculty sponsor; and members Josh Hardwick, top right, and Ashley Eith recognize another chapter award.

MUSC is among seven chapters in Province 4 of Psi Omega and represents dental schools in Alabama, North Carolina, Florida, Kentucky, Tennessee and South Carolina. MUSC's Sigma Chi Chapter is among 36 chapters across the country competing for this award. MUSC Psi Omega dental students received the national founders award previously in 2001, 2005 and 2006.

"Receiving this award speaks volumes as to the level of community work and commitment our dental students have done this year and in the previous 10-plus years since we've begun our Sigma Chi Chapter," said Rick Albenesius, DMD, associate professor in the College of Dental Medicine. Albenesius and colleagues Ted McGill, DMD, associate professor, and Gabriel Ingraham, DMD, assistant professor, College of Dental Medicine, serve as faculty advisors to the group.

MUSC's chapter is composed of 80 active members who have volunteered more than 1,500 hours throughout the year. As a result of their efforts, they were able to contribute and distribute more than $2,000 among philanthropic groups, community free dental clinics and the dental school's Ian Burns Scholarship Fund. The group is currently supporting Families Helping Families as their holiday project. Their ongoing goal is to educate the public and improve the quality of dental care in the Tri-county community.

"Students may be busy, but we also try to find time in our schedules to get out and help others through community service," said Elizabeth Fulmer, a third-year dental student and chapter secretary. "As future dental providers, it provides us the chance to help others in the same way we would be assisting and caring for our future patients." Fellow third-year dental student Byron Guffee is Psi Omega's chapter president.

Other community projects Sigma Chi has participated in was the DAD project and an annual fishing tournament to support dental mission trips abroad. Upcoming projects for the group include support with the Special Smiles pavilion at the Lowcountry Special Olympics, February's children's dental health month activities and outreach via Give Kids a Smile Day.

Additionally, Sigma Chi students continue to serve the community by volunteering at free dental clinics throughout the Tri-county.

The Psi Omega National Dental Education Fraternity is an organization focused on maintaining and advancing high standards in the dentistry profession by instilling a spirit of fraternal cooperation in advancing the dental profession by improving teaching, practice, research, ethics and law.



Friday, Dec. 18, 2009