by Cindy Abole
Public Relations
Each Friday for the past 10 weeks, two numbered tabs on a poster at MUSC's Wellness Center have been the center of attention.

The numbers on the glossy poster are interchangeable—one represents total weight loss (weekly), the other a running total of pounds lost by individuals involved in the Fall 2009 MUSC Healthy Charleston Challenge (Challenge).

The numbers reflect the achievements of some of Charleston's biggest losers. There's no shame attached to this distinction. The numbers reflect efforts made by approximately 60 people and more than 350 Tri-county residents who achieved weight loss success that makes Wellness Center program director Janis Newton proud.

"It's exciting to witness the transformations made by many people as they establish healthy lifestyle habits that will be a permanent part of their lives through the Challenge," said Newton. "It isn't easy to change a habit—it takes hard work. It's much easier to put a Band-Aid on the problem, but these individuals have embraced this process and traded in their unhealthy habits for newer, healthier ones."

For the fourth Challenge, these men and women, working in 11 sponsored teams, committed themselves to collectively lose more than 1,173 pounds this session and 7,029.4 pounds combined weight lost in the two-year history of the Challenge.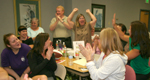 Team Total Approach celebrate their first place win Nov. 19.

On Nov. 19, teams gathered for the final weigh-in and learned about this year's top teams: first place—Total Approach Wellness & Performance Training (13.28 percent weight lost and 208.5 total pounds lost); and second—Louie's Kids (12.66 percent weight lost, and 194.6 total pounds lost).

Teams achieved this through steady exercise and healthy eating, accountability, new skills and the guidance of a professional team which included fitness trainers, dietitians, exercise physiologists and a program clinical psychologist to assist them in weight loss and developing healthy lifestyle habits.

The first place team received $100 each, a massage certificate from Center for Therapeutic Massage, gift certificate from Jason's Deli and a gold pass to Charleston County Parks & Recreation (CCPR).

Individual winners for total percentage weight loss: Curtis Acheson (Jason's Deli), won a bike from Trek Bicycle Store in Mount Pleasant, and Blair Christie (Total Approach and Anderson Insurance) received an autographed NFL football from legendary quarterback Joe Namath donated by Joe D. Bands.

The teams were: Anderson Insurance Associates, Center for Therapeutic Massage, CCPR, CADI, Louie's Kids, Total Approach Wellness & Performance Training, Charleston Moves, Jason's Deli, Joe D. Bands, MUSC Boot Camp and the Ovie Mughelli Foundation.

"Collectively, these participants have lost several tons," Newton said. "This translates into fighting several forms of chronic disease. Each participant has redefined their future and what healthy, active lifestyles look like."

Fighting the odds
This weight loss and activity program, which started Sept. 11, was the right fit for the Challenge participant and business sponsor Kevin Phipps, 40, owner of Carolina Acoustical & Drywall, in Charleston. With a history of heart disease, high cholesterol and other chronic diseases running through his family, Phipps struggled to follow his doctor's advice of shedding some weight and exercising. It wasn't until he learned that his own children, Marissa and Timothy, were diagnosed with high cholesterol that he committed himself as a role model for his family.

Phipps attended two, six-week summer MUSC Boot Camp sessions and was hooked. He committed to joining the Boot Camp 1 team for the fall Challenge and emerged 30.6 pounds lighter after three months.

"I loved both the boot camp and the Challenge experience—the education, team camaraderie, experienced trainers, nutritionists and other professionals available to me," said Phipps. "It brought another level of accountability that really made the difference for me. I feel it's one of the easiest ways to achieve weight loss in a life-changing, habit-forming experience. It was more than I expected it to be."

College of Nursing instructor Jane Anderson, of second-place team Louie's Kids, echoed her satisfaction in the program through team involvement and measurable results.

"Participants have many lines of support with a team trainer and other specialists," said Anderson. "I tried other popular programs like Weight Watchers, the Beverly Hills Weight Loss Program and my own attempts to eat healthy, but wasn't very successful."

Anderson praised the leadership of team trainer Catherine Stephenson, as well as MUSC mentors Sheila Smith, Teresa Kelechi and Laura Cousineau. "Completing the post-test measurements was an exciting event for me," said Anderson. "I know the number of pounds lost that I achieved, awareness of baggy clothes, etc., but to see the drop in my BMI [body mass index] out of the dreaded obese range and percent decreases in body fat and inches lost were solid rewards for me within the 10-week period."
Challenge seeks teams for Jan. 7 competition
Spring 2010 MUSC Healthy Charleston Challenge is looking for men and women interested in changing their lives.

Starting Jan. 7, anyone struggling with obesity, cardiovascular disease, and other forms of chronic disease, can take part in the Tri-county's version of The Biggest Loser.

The 12-week program features a team approach with regular exercise and diet programs that lead to healthy weight loss and an improvement to one's overall health.

The Challenge offers the support of a team of exercise physiologists, nutritionists, trainers and a program psychiatrist to help people take that first step.

Enrollment deadline continues through December. Registration can be found at http://www.musc.edu/hsc or by visiting the Wellness Center membership desk.

As teams are finalized for this competition, organizers are seeking participants who've undergone bar- iatric surgery to form a six-member team.

Participants should be at least 25-plus pounds overweight and in need of a permanent lifestyle change due to increased risk of chronic disease.

The fee for Wellness members is $150 and $300 for non-members (deposit required). Applications will be reviewed and accepted based on a need for lifestyle change. Participants will be notified of acceptance.

Contact Janis Newton at 792-4141 or newtonj@musc.edu.


Friday, Dec. 4, 2009