by Cindy Abole
Public Relations
National Medal of Science recipient Elaine Fuchs, Ph.D., visited MUSC Nov. 16 as part of MUSC's Women Scholars Initiative and the Department of Pathology and Laboratory Medicine's seminar series.

Her visit was an opportunity for MUSC's scientific community, especially female faculty and students to gain from her knowledge and experiences.

Fuchs was among nine distinguished scientists to recently receive the 2009 National Medal of Science. She was recognized for her contributions to the biological sciences.

On Oct. 7, Fuchs was presented with the award by President Barack Obama at the White House.
"It's important to find what impassions you in your work," said Fuchs, addressing a group of female faculty and MUSC Women Scholars Initiative leaders at Colcock Hall. "I've been lucky throughout my life and career to calmly find my way. Science is a journey of finding things and learning what to do. A good scientist is always exploring—seeking answers to questions."

Around midday, she spoke as part of the Department of Pathology & Laboratory Medicine's seminar series. Her seminar was titled, "Stem Cells of the Skin: Biology and Clinical Promise." Later, she had lunch and spoke with Pathology graduate students, postdoctoral scholars, and several Pathology and Rheumatology faculty to discuss research progress.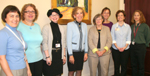 Dr. Elaine Fuchs, center, joins MUSC Women Scholars Initiative's Drs. Joan Cunningham, from left, Samar Hammad, Anne Ramsdell, Rosalie Crouch, Ashli Sheidow, Lisa Cunningham and Tammy Nowling on Nov. 16 at Colcock Hall.

"The Women Scholars Initiative was thrilled to host Dr. Fuchs' visit and to present her with the 2009 MUSC Eminent Scholar Award," said Lisa L. Cunningham, Ph.D., assistant professor, Department of Pathology and Laboratory Medicine and member of the Women Scholars Initiative Eminent Scholar sub-committee.

The award program began three years ago with the goal of bringing eminent scientists to MUSC to speak about their work. These scientists do not have to be women, but their contributions to their fields must to be extraordinary. It benefits all MUSC faculty and students to have an opportunity to interact with these eminent scientists.

"Dr. Fuchs is a celebrated scientist, and her visit generated a lot of excitement among our faculty, students, and post-docs," said Cunningham. "Those who met her were able to benefit not only from her exceptional scientific expertise, but also from her journey, beginning with her childhood interest in tadpoles to her challenges and continuing triumphs, including most recently receiving the National Medal of Science. Her visit was an inspiration to many developing (and established) scientists on campus."

Fuchs was recognized for her pioneering research in cell biology and molecular genetics in mice. Her research focuses on the biology of stem cells in hair and skin. Unlike many other stem cell types, these skin stem cells can be grown easily in the laboratory. Dr. Fuchs and her team have elucidated the mechanisms by which specific signaling pathways, including Wnt and BMP, influence stem cell behavior and differentiation. Her discoveries have significant implications for the treatment of blindness, neurodegenerative disorders and cancer.

"We are very fortunate to have Dr. Fuchs as a visitor. Dr. Fuchs is a forward-thinking academician and a world class scientist. Her work on the essence of stem cell biology is especially creative and is having a tremendous impact on a wide range of research fields," said Stephen M. Lanier, Ph.D., associate provost for research and professor, Department of Cell and Molecular Pharmacology and Experimental Therapeutics.

Fuchs is a Howard Hughes Medical Institute investigator and the Rebecca C. Lancefield Professor of Mammalian Cell Biology and Development at The Rockefeller University in New York City. An Illinois native, she received her undergraduate degree in Chemistry from the University of Illinois and her doctorate in biochemistry from Princeton University in 1977. She conducted her postdoctoral studies at the Massachusetts Institute of Technology.


Friday, Dec. 4, 2009