NSICU receives national critical care honor




by Megan Fink




Public Relations


When a patient battles for survival in the intensive care unit, family and friends can only wait and hope they are in the best hands. At MUSC, the hands in the Neurosciences Intensive Care Unit (NSICU) are award winning.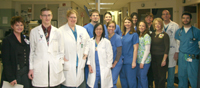 Some of the 41-member NSICU award-winning team includes Cheryl Holderfield, Dr. Ron Neyens, Sarah Gay, Trent Bishop, Leah Ramos, Nicole Thomas, Kate Imperial, Melissa Hill, Jessica Walkup, Danielle Prox, Chaz Farmer, Linda Huey, Dr. Julio Chalela, and Daniel Cobb.



Recognized as among the nation's top adult critical care, pediatric critical care and progressive care units; NSICU was given the American Association of Critical Care Nurses (AACN) Beacon Award for Excellence last month. Only 130 of the estimated 6,000 ICU units nationwide have been recognized with this distinction, and MUSC's NSICU is the first academic critical care unit in the state of South Carolina to receive the Beacon Award.

"It means so much that my nurses set this example of excellence in patient care," said Cheryl W. Holderfield, R.N., NSICU nurse manager. "Our goal is to provide a light like a beacon for people needing direction on how to provide the best care. We're setting the standard of care by adhering to protocols, policies and guidelines."

Holderfield also credits her staff's superior critical thinking skills and expertise as reasons for their honorable achievement.

NSICU nurses, who care for acutely ill patients suffering from neurological injury, operate seamlessly as a team, said Jessica Walkup, R.N. "We work together to get things done quickly and efficiently. Communication is what makes it work so well. Everyone within the team listens and talks to each other with mutual respect."

NSICU nurses also collaborate with pharmacists, physicians, aides, dieticians and respiratory care professionals on a regular basis.

In addition to looking at a unit's scoring based on national care standards, AACN considered other criteria such as, recruitment and retention, quality of care goals, family visitation and the reduction of ventilator instigated phenomena, urinary tract infections and pressure ulcers.

"This award recognizes our model of care, which is very specialized in this unit," said Julio Chalela, M.D., NSICU medical director. "Our nurses are very involved in patient care and decision making. They are the ones who present patients to the physicians and know the patient as well as the doctor. It's this multidisciplinary approach that makes our rounding so successful."

Additionally, NSICU nurses also are active in publishing and presenting research at a national level.

Considered as prestigious as the American Nurses Association's Magnet award, the Beacon Award provides units a way to measure their system and outcomes, and tends to be connected to patient safety initiatives.

"The significance of this award is powerful. It really exemplifies the nursing staff's drive towards excellence," said June Darby, R.N., Neuroscience Institute Service Line administrator. "It's a very high standard and it just shows the staff's initiative to want to learn and improve our patient's care."


Friday, Feb. 13, 2009

The Catalyst Online is published weekly by the MUSC Office of Public Relations for the faculty, employees and students of the Medical University of South Carolina. The Catalyst Online editor, Kim Draughn, can be reached at 792-4107 or by email, catalyst@musc.edu. Editorial copy can be submitted to The Catalyst Online and to The Catalyst in print by fax, 792-6723, or by email to catalyst@musc.edu. To place an ad in The Catalyst hardcopy, call Island Publications at 849-1778, ext. 201.