MUSC receives award in treatment of heart attack patients


MUSC has received the 2008 Action Registry–Get With The Guidelines (GWTG) Program Silver Performance Achievement Award from the American College of Cardiology Foundation and American Heart Association (AHA) for its success in implementing a higher standard of care for heart attack patients.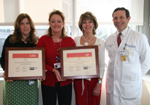 Cardiovascular outcomes program nurses Sandie Coons, from left, and Linda Easler join Maggie Bobo, Mid-Atlantic Affiliate American Heart Association and Dr. Peter Zwerner, co-director of MUSC's Chest Pain Center, in receiving the 2008 Action Registry—Get With The Guidelines Silver Performance Award for achieving higher standards of care for heart attack patients.



MUSC is among the top hospitals in the country recognized for consistently following the treatment guidelines in GTWG for 12 consecutive months. This protocol includes aggressive use of medications like cholesterol-lowering drugs, beta-blockers, ACE inhibitors, aspirin, and anticoagulants in the hospital.
"The full implementation of acute and secondary prevention guideline-recommended therapy is a critical step in saving the lives and improving outcomes of heart attack patients," said Gregg C. Fonarow, M.D., GTWG steering committee chairperson.

"MUSC's accomplishment with the Get With The Guidelines program is an example of our commitment to providing the highest level of care to our patients with cardiovascular disease. We realize that by working together as a team we can improve patient outcomes and save lives," said Peter Zwerner, M.D., MUSC cardiologist and co-director of the MUSC Chest Pain Center.

The need for quality improvement programs is well established, with more than eight million adult Americans having had a heart attack and more than 900,000 developing new or recurrent heart attacks each year. At age 40 or older, 18 percent of men and 23 percent of women will die within a year after their first heart attack.

Friday, Feb. 13, 2009

The Catalyst Online is published weekly by the MUSC Office of Public Relations for the faculty, employees and students of the Medical University of South Carolina. The Catalyst Online editor, Kim Draughn, can be reached at 792-4107 or by email, catalyst@musc.edu. Editorial copy can be submitted to The Catalyst Online and to The Catalyst in print by fax, 792-6723, or by email to catalyst@musc.edu. To place an ad in The Catalyst hardcopy, call Island Publications at 849-1778, ext. 201.