SCCP campuses visited for full accreditation

by Roby Hill




SCCP Director of Communications


For the third time in four years, members of the Accreditation Council for Pharmacy Education (ACPE) met with faculty, staff, students, and officials of the South Carolina College of Pharmacy (SCCP) at MUSC this month to assess its progress.

SCCP, which represents an integration of the pharmacy programs at the University of South Carolina (USC) and MUSC, has candidate status as it seeks full accreditation of the joint program that is seen as a unique model of intrastate academic collaboration. The ACPE last visited the campuses in May 2007.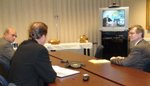 The pharmacy accreditation site visit team conducted interviews Thursday in QF106 of the College of Pharmacy. Dr. John Raymond, right, MUSC provost, met with William A. Gouveia, vice president of the board of directors of the Accreditation Council for Pharmacy Education (ACPE), and Dr. Jeffrey Wadelin, associate executive director of ACPE; while USC interim provost Dr. William T. Moore and USC associate provost for Health Sciences Dr. Russell Pate participated via videoconference from Columbia.



"Each site visit has been very helpful for both us and them," said Joseph T. DiPiro, PharmD, SCCP executive dean. "We've been able to explain in more detail what our vision is and how it is executed, which was helpful for them. They have given us insightful comments that have helped shape how we continue to progress."

Since SCCP was formed in 2004, the existing colleges of pharmacy at each university have maintained individual accreditation status, which will be phased out after the final student from the entering class of 2004 is graduated. The accreditation process for the SCCP is a three-step process that concludes after the first class graduates in 2010.

"The first step in the process is being granted pre-candidate status, which we achieved in 2005," said Arnold Karig, Ph.D., MUSC campus dean for SCCP. "Then we went through a sequence of visits, recommendations and reports and were granted candidate status in 2006. Before this visit, we had been found to fully meet all but two of the 30 standards and we partially met those. We'll find out what additional progress we've made when they make their report. The last step in the process is accreditation which should follow a 2010 ACPE visit and graduation of the first SCCP class."

The standards that are in the process of being met address the need for more modern facilities on the MUSC campus, which will be addressed by the planned new pharmacy building to be located next to the upcoming Drug Discovery Building; and further development of the college's organizational and governance structure.

The ACPE two-member visit team included William Gouveia and Jeffrey Wadelin, Ph.D., who arrived on SCCP's USC campus Feb. 10 and conducted interviews with faculty and administrators. They then visited MUSC Feb. 11, where the men spent two days interviewing faculty and students. They concluded their site visit Feb. 12 with a videoconference meeting with John Raymond, M.D., MUSC vice president for academic affairs and provost, and USC's William T. Moore, Ph.D., executive vice president for academic affairs and interim provost, and Russell Pate, Ph.D., associate provost for health sciences.

"The essential purpose of the accreditation process is to provide a professional judgment of the quality of a college or school of pharmacy's professional program(s) and to encourage continued improvement thereof," according to the ACPE Web site. "Accreditation concerns itself with both quality assurance and quality enhancement."




Friday, Feb. 27, 2009

The Catalyst Online is published weekly by the MUSC Office of Public Relations for the faculty, employees and students of the Medical University of South Carolina. The Catalyst Online editor, Kim Draughn, can be reached at 792-4107 or by email, catalyst@musc.edu. Editorial copy can be submitted to The Catalyst Online and to The Catalyst in print by fax, 792-6723, or by email to catalyst@musc.edu. To place an ad in The Catalyst hardcopy, call Island Publications at 849-1778, ext. 201.